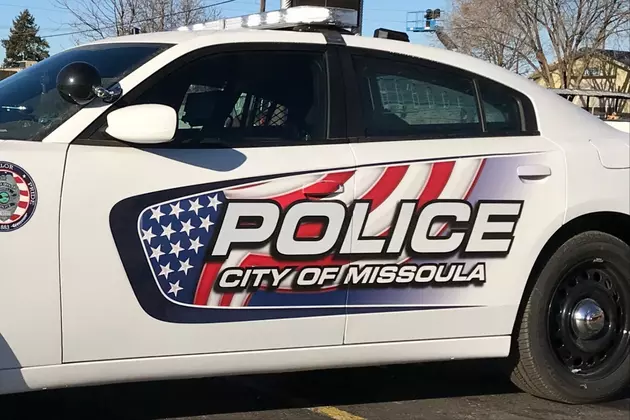 Missoula Man Assaults Woman in the Mustard Seed Parking Lot
Photo Courtesy of the MPD
On Saturday, a Missoula Police Department Officer responded to the Mustard Seed for a report of an assault. The officer arrived and quickly detained the suspect. The officer then spoke to the victim who appeared visibly shaken and had difficulty speaking. Police Public Information Officer Lydia Arnold explains.
"After leaving dinner with friends, the victim was sitting in their vehicle getting ready to leave the parking lot," Arnold said. "A male suspect, later identified as 41-year-old Matthew Gibson, forced himself into the victim's vehicle. The attack was completely unprovoked. Gibson forced himself into the vehicle and began to violently attack the victim. Gibson made comments that made the victim feel as though they were going to die. The victim used methods to draw attention to them and seek help by honking their horn."
The victim said she attempted to fight Gibson off, while honking her horn. As the victim began honking, Gibson exited and she locked the doors. Gibson then tried to enter her vehicle again and when he was unable to, he began beating on her window in an attempt to re-enter the vehicle.
The victim's mother and friends heard her honking and they ran towards the victim's car. At that point, Gibson turned his attention towards the victim's mother and began chasing her. The victim's mother was able to get into her vehicle, but Gibson continued hitting both vehicles and was trying to prevent them from leaving.
"The victim was transported to the hospital due to the extent of their injuries and their condition is still unknown at this time," Arnold said. "When officers located Gibson, he was violently beating up a vehicle in the parking lot. Gibson was taken into custody and is being held at the Missoula County Jail."
The victim appeared to have large scratches on her arms and neck. She said her neck was sore and that she was having difficulty swallowing.
The victim said Gibson repeatedly punched her in the face, the side of the head, and the body. The victim said Gibson also grabbed her by her hair and throat, began strangling her, and smashing her head against the glass of the driver side door. The victim remembered Gibson saying, "I am going to kill you." The victim told the officer she thought she was going to die.
Gibson was charged with felony aggravated assault, criminal trespass to vehicles, assault, and criminal mischief.
How Many in America: From Guns to Ghost Towns
Can you take a guess as to how many public schools are in the U.S.? Do you have any clue as to how many billionaires might be residing there? Read on to find out—and learn a thing or two about each of these selection's cultural significance and legacy along the way.
LOOK: 50 photos of American life in 2020
More From Newstalk KGVO 1290 AM & 98.3 FM