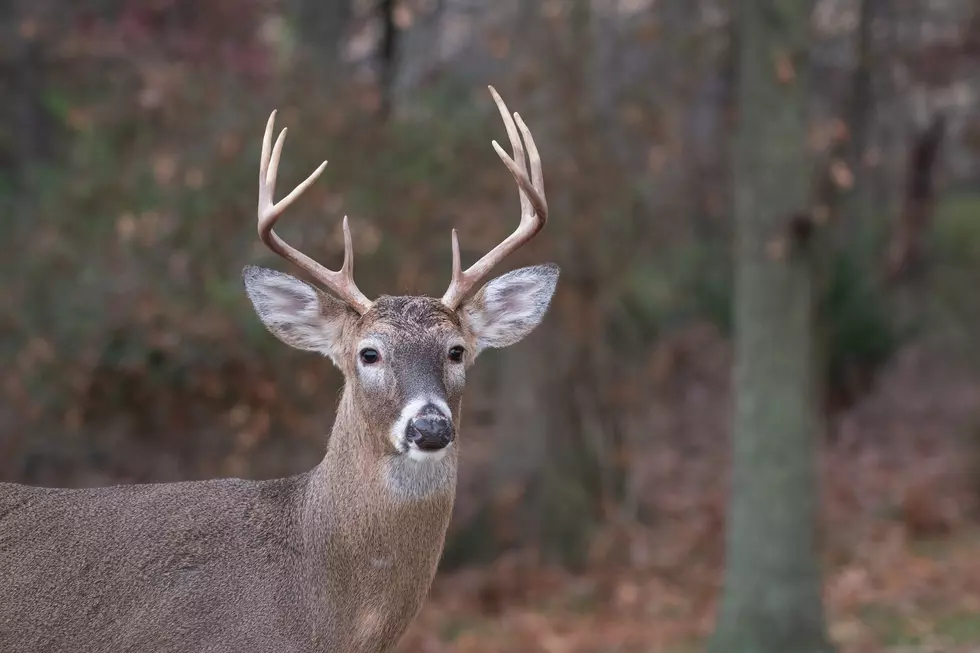 Wounded Urban White Tail Buck Shot in My Missoula Back Yard
Credit: EEI_Tony, Getty Stock/Think Stock
Missoula, MT (KGVO-AM News) - In case you heard a rifle shot in the upper Miller Creek area late Wednesday night, here's what happened.
This is KGVO newsman Peter Christian with a personal story of a wounded white tail buck that was shot in my back yard by Montana Fish, Wildlife and Parks game wardens late Wednesday night.
A Late Night Phone Call
I get to bed pretty early, since my alarm goes off at about 2:00 a.m., so imagine my shock when my phone rang at about 11:30 p.m. My next-door neighbor Dennis Follette called to explain the presence of armed FWP personnel.
Game Warden Sergeant Aaron Berg with Montana Fish, Wildlife and Parks and another FWP game warden came into my back yard with powerful flashlights and a .22 caliber rifle. Berg explained what happened earlier in the evening.
A Wounded  White Tail Buck with Two Arrows in it was in my Back Yard
"Someone legally did attempt to harvest this animal in some property that was in the county," began Sergeant Berg. "It was not in the city limits because there are some pieces of county that are surrounded by some city portions that were annexed in the last few years. (This area is a checkerboard of city and county land) They had attempted to harvest it legally in the county, but it was able to be mobile enough to where it moved several city blocks and then ended up in a space where it was technically in the city."
That's When I Heard the Rifle Shot
At this point my neighbor Dennis called my home and I got up (in my PJ's) and greeted the game wardens. That's when Berg spotted the wounded deer and I heard a loud rifle shot.
"The homeowner next to your place called and that's when we came down just to try and euthanize it," said Berg. It was still alive there with the arrows still in it and we were able to get it in, dress it out and put it in our in our freezer."
PLEASE DON'T FEED THE DEER!
Berg then addressed the problem with residents in the wildland urban interface that attempt to feed wild deer human food, such as grain and corn, which can actually be deadly to deer.
"Those deer are used to eating kind of dried and dead grass in the winter and their systems aren't set up to digest and pass a lot of those 'hot foods'; and what I mean by 'hot foods' like grain, corn and other things like that," he said. "Their systems just don't process it really well, and it can actually plug their systems up and they slowly starve to death because their system is plugged up."
Berg finished by stating the obvious that wherever wild game such as deer abound, that predators are sure to follow.
"When you have congregations of especially white tail and mule deer, I mean they are the mountain lions main prey, and bears, too," he said. "Bears will hunt and harvest deer for food, as well."
Berg described the rifle used to put the deer down.
"We use small caliber (.22 caliber rifle) in town just because of the safety aspect of it tends to not go through the animal because of the ballistics and the energy and all that, so we ended up getting it and dressing it out. It's all been handled and taken care of."
We regularly have both mule deer and white tail deer moving through our property, in addition to a family of foxes, some raccoons, and the occasional skunk.
By the way, I didn't get back to sleep after all that excitement, so Thursday has been a long day.
LOOKING BACK: Photos of Missoula and How It's Changed
Check out these photos of how Missoula has changed over the past decade.
Get to Know Missoula A to Z
All about Missoula, Montana.
More From Newstalk KGVO 1290 AM & 98.3 FM