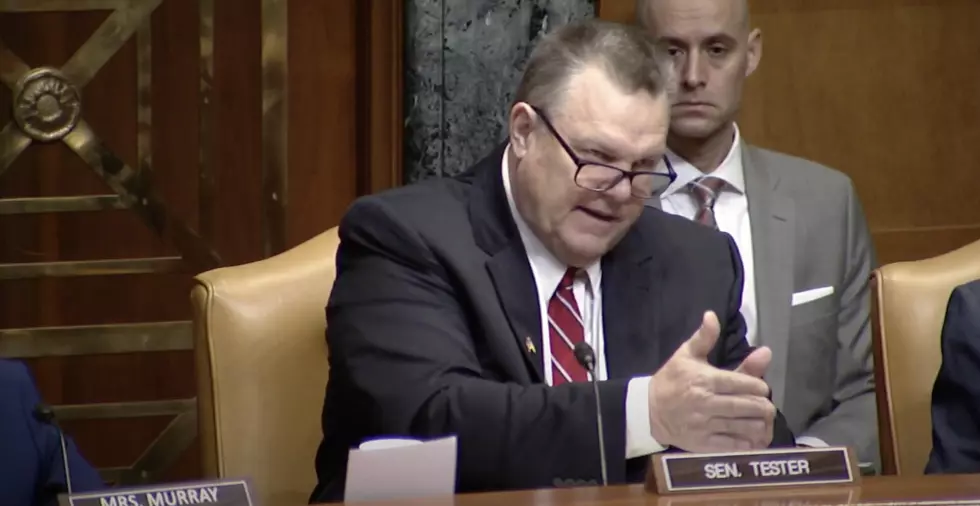 Tester: 'I Don't Want a Damn Balloon Going Across U.S.'
U.S. Senate video- Youtube
Senator Jon Tester says that the spy balloon that was first spotted over Montana last week is another example of what he calls Chinese "aggression." But he's among the lawmakers demanding more explanation from the Biden Administration on whether our country knew about the course of the balloon, and when.
For Montana Senator Jon Tester, last week's discovery of a Chinese spy balloon in the skies over Billings was further evidence of what he calls China's aggression toward the United States.
I talked with the state's senior senator yesterday right before a hearing by the Defense Appropriations subcommittee, where the Senate is demanding some answers from the administration.
And he pulled no punches.
"Well, first of all, Dennis. What China did is completely unacceptable," Tester said emphatically. "The fact is that people across this country, and Montana is no exception, appreciate privacy. They appreciate freedoms and I think that is not a value that China shares with us." 
Tester believes there are key questions that remain unanswered.
"Some of the things I'm going to ask is. When did you first know about it? Did you, do you know, you know what his capabilities were, what they were looking for in particular, what kind of information did they get? Was our security compromised in any way whatsoever by this balloon?"
And during the Thursday hearing, Tester pressed Assistant Defense Secretary Melissa Dalton on not only what we know about the balloon and its payload, but what will be done if it happens again.
"We think we know what they were going to collect. We don't know. That scares the hell out of me," Tester admitted during the hearing. 
"We are recovering the balloon and learning more about it and also plugging that with what we learned last week," Dalton explained. "We are building our understanding of what capabilities they have, what we need to do going forward."
Tester doubled down.
"Because quite frankly, I'll just tell you I don't want a damn balloon going across the United States when we potentially could have taken it down over the Aleutian islands. No offense to Alaska or Alaska or in some of the areas in Montana, and I understand public health. I understand doing damage. I understand that could have been a nightmare. But the truth is, is I I got a problem with the Chinese balloon flying over my state. Much less the rest of the country."  
WATCH: Senator Tester presses Defense Department officials during Tuesday's hearing
I asked Tester whether relations with China have reached a new low.
"US-China relations weren't that great before this is a country that I've been warning people about for a long time. They want to replace us economically and militarily in the world. They've been very aggressive about it."
Senator Steve Daines issued a statement after the briefing, saying,
"Unfortunately I left the administration's briefing with more questions than when I went in. It is completely unacceptable and infuriating that the Chinese spy balloon was allowed to hover over Montana and our missile bases to begin with and was then allowed to travel across the entire United States before it was brought down. Montanans deserve more answers." --Senator Steve Daines
READ MORE: Chinese balloon sparks outage from Montana leaders
5 Cities Like Missoula That You Can Move to If Montana Is Too Hostile
Just can't make the move to Missoula work out? Consider these other cities.
More From Newstalk KGVO 1290 AM & 98.3 FM