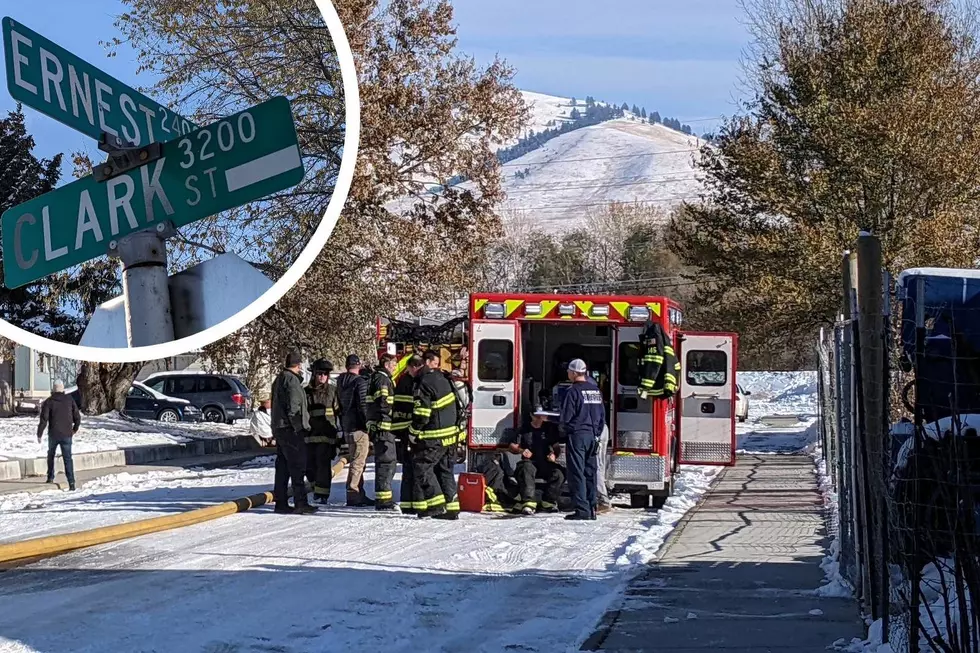 Structure Fire on Ernest Avenue in Missoula
Credit: Benny Edwin
UPDATE:
KGVO News spoke to Missoula City Fire Department Battalion Chief Brad Kidd about Tuesday afternoon's fire on Earnest Avenue. 
"At about 12:30 p.m. a structure fire was reported with smoke and flames showing," began Battalion Chief Kidd. "The Missoula Police Department got on the scene first and they confirmed that the evacuation had taken place and then evacuated the neighbors. 311 with (Missoula Rural Fire) arrived first and confirmed that it was a working structure fire and our engine 131 came in behind them. Between the two of them, they had pulled attack lines, made entry, and got a pretty quick knockdown on the fire." 
Battalion Chief Kidd described some of the damage to the structure. 
"The fire had spread and there were a lot of contents in there, so it was a little tricky trying to find the seat of the fire. It extended into the attic a little bit so it took a little bit to get it fully extinguished. We did have three individuals with smoke inhalation who were not transported. All the pets made it out and there were no firefighter injuries." 
Battalion Chief Kidd provided an estimate of the damage to the structure. 
"Our bureau reported $50,000 in property damage with 25,000 of property saved," he said. "The fire investigators came quickly. They were there on scene probably even before they extinguishment to start their investigation of what happened by interviewing people and trying to determine property damage and other things." 
Battalion Chief Kidd said they were able to work closely with their fellow firefighters with Missoula Rural Fire at the scene. 
"This one was in conjunction with (Missoula Rural Fire) so anytime we get to work with them, it just comes down to fine-tuning our efficiency together," he said. "We also had the Mobile Support Team who came to tie in with the people to make sure that their needs were met after the fire with the Red Cross services with lodging and assistance as they need it." 
Fire investigators remained on the scene to determine the source and cause of the fire. 
Second report:
According to the City of Missoula Fire Department, first responders are still on the scene, but the fire is out.
First report:
Missoula, MT (KGVO-AM News) - City of Missoula Fire Department crews have responded to a structure fire in the 2300 block of Ernest Avenue.
Fire officials report that the people inside the structure were able to evacuate. Officials ask that people avoid the area.
The cause of the fire remains under investigation. We will have additional information as it becomes available.
Missoula Reaction to ESPN GameDay in Bozeman
We asked Missoula on our
Facebook page
what they thought about ESPN GameDay going to Bozeman. Here's what they had to say:
More From Newstalk KGVO 1290 AM & 98.3 FM