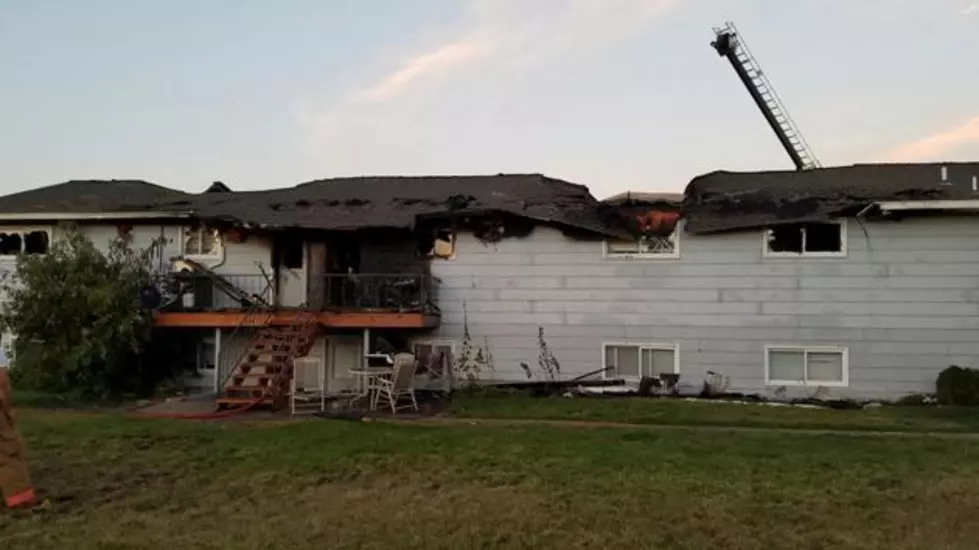 Lolo Apartment Fire Draws Massive Response From Surrounding Agencies
Lolo Apartment 3
An apartment fire in Lolo Wednesday evening, apparently caused by a barbecue, brought five cooperating fire departments, 39 firefighters, and 11 pieces of apparatus to Farm Lane in Lolo.
Fire chief Bill Colwell said the call came in to 9-1-1 just before six pm as a barbecue fire, and the first engines arrived to find heavy smoke showing from the north end and from the eaves of the building. There was active fire burning in the eaves and attic space of a 12-unit apartment complex.
The fire was attacked from inside the involved apartments and through the north gable end. A hole was cut in the roof and the aerial unit put water through the hole to stop the fire from extending further south through the complex.
An aerial unit, along with six engines, and air supply unit, command and logistical units and 39 firefighters responded to the blaze.
Assisting Missoula Rural Fire were crews from Florence Fire and the Missoula Fire Department, while Frenchtown and east Missoula helped cover other calls.
Nine of the twelve apartments were damaged by fire and water from the incident.
Colwell said no residents or firefighting personnel were injured and all the residents are either staying with family or friends, or are being housed by the Red Cross.
A full investigation is underway by Missoula Rural Fire and the Missoula County Sheriff's Office.
More From Newstalk KGVO 1290 AM & 98.3 FM