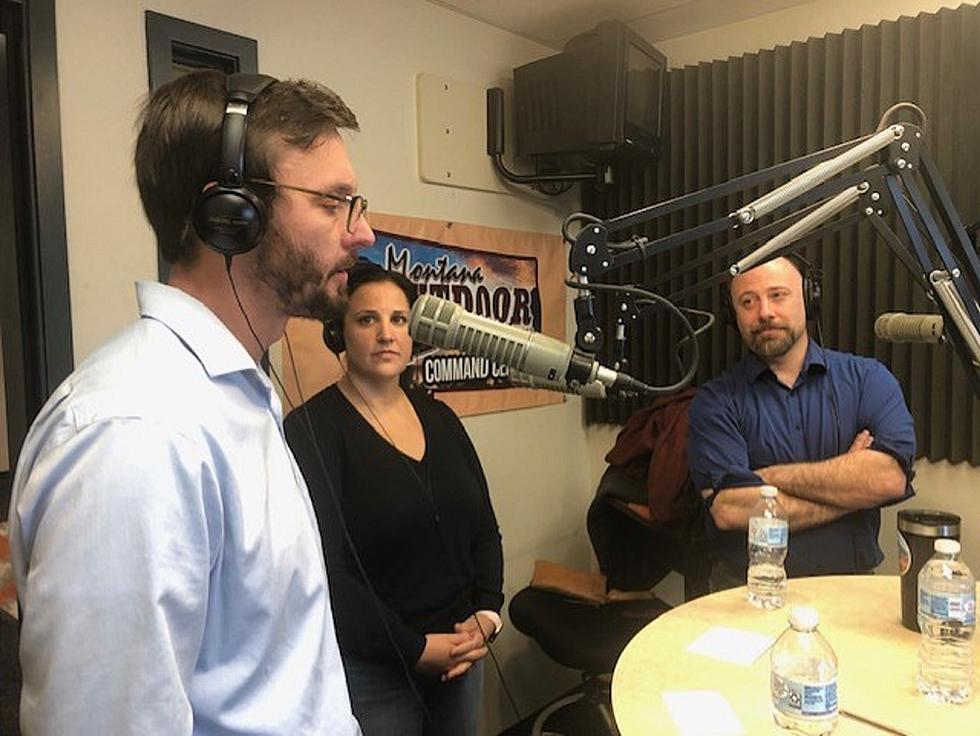 Here Comes the Trio of Missoula Municipal Court Judge Candidates
photo by Peter Christian
Three Missoula Municipal Court candidates are running together for the newly created judgeships, and all three appeared on Tuesday's Talk Back show to answer questions from KGVO listeners.
Department 1's Jennifer Streano, Eli Parker in Department 2 and Jacob Coolidge in Department 3 appeared together because, as Jacob Coolidge explained, they want to take Missoula's Municipal Court in a new direction.
"The three of our opponents are all folks who either are or have basically been working under Judge (Judy) Jenks as either current assistant judges or judges pro tem," said Coolidge. "We're running because we think that we should be taking the court in kind of a different direction than it's been, and in a different direction than our opponents have been taking it in. We all have worked together professionally and have kind of shared ideas about what we want to accomplish as judges."
Eli Parker explained what happens when someone who is mentally ill is arrested and sent to the Missoula County Detention Center.
"When somebody is in jail because of a criminal matter and they're mentally ill, sometimes they don't get access to the medications they need," said Parker. "And what I've seen is that then leads to a very high cost, not just for the individual, but the community, and for the staff at the jail. So, what I've wanted to do as a judge is to start to use my experience to get people connected back to the resources that exist in Missoula."
Jennifer Streano explained her views about the most effective ways to utilize the court's time and resources.
"We want to be very clear that people who commit crimes or who are a threat to this community, we will not be soft on," said Streano. "That's not something that we are focused on changing or modifying in any way. What we are trying to do is just prioritize cases better. We're trying to use our resources better and not waste them on non violent offenses or traffic offenses, things that are not causing threats to the community."
Parker said the cost of incarceration, especially in the case of someone who may be mentally ill is made worse after the jail term has been completed.
"Maybe I'm speeding because I'm in a psychosis," said Parker. "If you punish somebody or put somebody in jail for a mental illness like that, then you're actually not deterring crime. What you're doing is you're contributing to it because when they get out, they're worse off. That's a public safety concern that you've created by costing the city in the county a lot of money."
In Department 1, Jennifer Streano is running against Sam Warren; in Department 2, Eli Parker's opponent is Thorin Geist, while Ethan Lerman is running against Jacob Coolidge.
LOOK: How Halloween has changed in the past 100 years
More From Newstalk KGVO 1290 AM & 98.3 FM