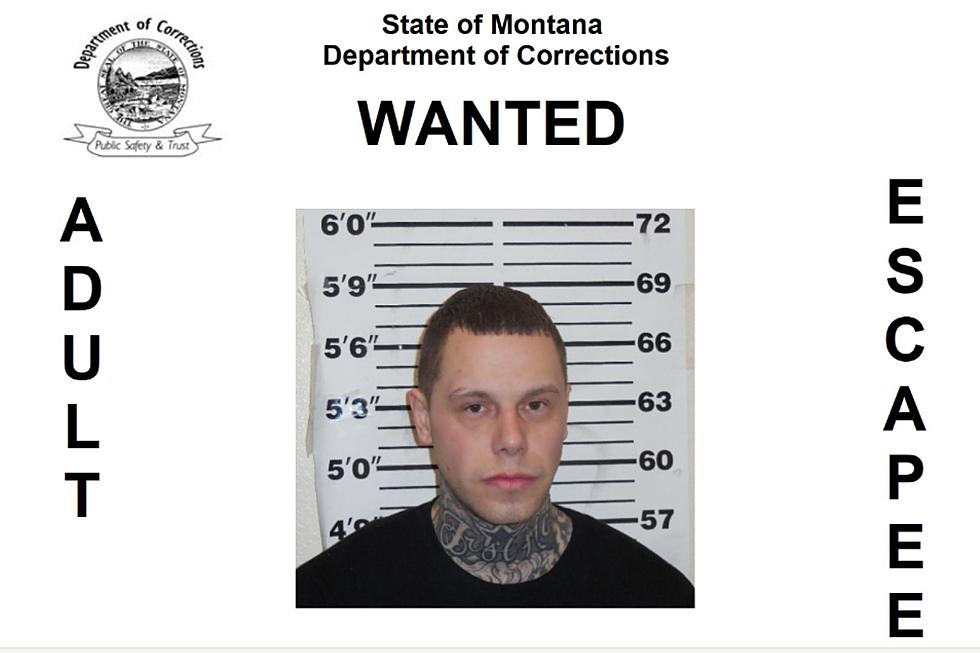 Convicted Felon Escapes Missoula Pre-Release Center
Credit: Missoula Correctional Services
Missoula, MT (KGVO-AM News) - On October 30, 2023, Missoula Correctional Services announced that a Missoula Pre-release Center resident, Vincent Knight, left the Center on October 30, 2023, at approximately 10:15 a.m. Director of Security Alisha Thompson has the details.
"He was last seen at 1012 hours on October 30, 2023, at the counter while awaiting a hearing," Thompson said. "He was last seen wearing blue jeans, a light gray hoodie, and brown Nike shoes, Mr. Knight is 31 years old. He is a white, male with a stocky build. He weighs approximately 175 lbs. and is 5'8" tall. He has brown hair that he keeps cut very short and brown eyes."
Thomson said Knight is a convicted felon.
"Mr. Knight has felony convictions out of Silverbow County and is serving 33 years with Dept. of Corrections for Aggravated Assault Felony Assault, Assault w/a Weapon, and Criminal Endangerment," Thompson said. "Anyone having information about this individual, please contact your local law enforcement. Because of the walk-away from the Pre-release Center, a warrant for Felony Escape has been issued for Mr. Knight's arrest."
According to Thompson, Knight also has several tattoos:
Abdomen - COOKIE MONSTER - MONSTER ENERGY LOGO
Arm, Left Upper - SKULLS, DOG, FILLER, "U"
Back - 'NIGHTMARE' STAR FILL AND LV FILL - JESUS FACE, MOTHER MARY FACE WITH CROSSES AND TWO DOVES - DOORWAY TO HEAVEN WITH STAIRS.
Calf, Right - "406 B","WAR AND PEACE" - COVERED UP - SKULLS AND MUSHROOM ALL THE WAY AROUND THE RIGHT LEG
Chest - RIGHT SIDE: 'KING' AND PRAYER IN WRITING 'GOD PROTECT ME FROM MY FRIENDS I CAN TAKE CARE OF MY ENEMIES' LEFT SIDE: 'WAR READY' GUY HOLDING A GUN - FILL.
Finger(S), Right Hand - DOT
Forearm, Left - "VWK", "KNIGHT" - COVERED WITH FLOWER TATTOO AND FILL
Forearm, Right - "40", SICKNESS", SKULLS, "LIFE", PISTOL, "13-15", "U SC", CLOWN W/ TONGUE PIERCED
Hand, Right - "MODERN OUTLAW" 'MONEY SIGN'
Hand, Right - GRANADE
Neck - 'Just Me' STAR AND LEAVES - LILY FLOWER ON EACH SIDE AND ROSE IN THE BACK - MUSIC NOTES BEHIND LEFT EAR AND STARS BEHIND RIGHT.
KGVO will provide more information about this situation when it becomes available.
LOOK: The longest highways in America
Gallery Credit: Hannah Lang
More From Newstalk KGVO 1290 AM & 98.3 FM