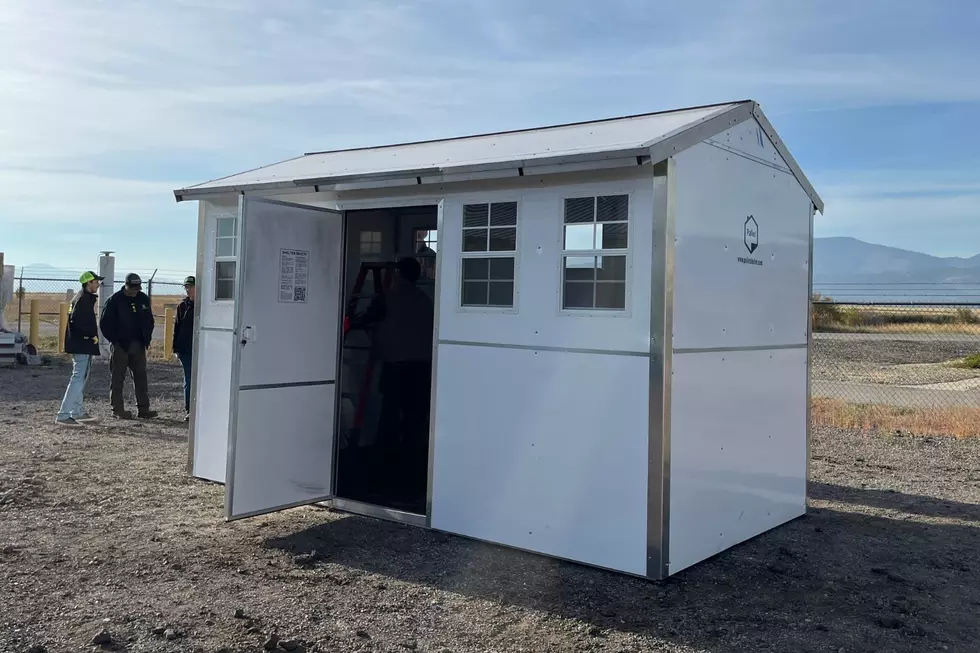 TSOS Will Have New Hard-Sided Shelters at Their New Site
Credit: Jim Hicks
Missoula, MT (KGVO-AM News) - For nearly three years, the Temporary Safe Outdoor Space tent encampment has been located just off Highway 93 South near the Buckhouse Bridge.
KGVO News recently spoke to Jim Hicks, Executive Director of the Hope Rescue Mission about their plans for new hard-sided shelters in the location near the Missoula Justice Center off East Broadway, planned for December.
TSOS to Put Up Hard-Sided Shelters at New Location
"As far as that move, we're looking at mid to late December, which some folks think is unfortunate, but that's when we get the first one stood up," said Hicks. "So we're kind of used to those conditions and it will be a great improvement in helping people move forward. We're just waiting on some things, but the construction timeline looks like it's going to be mid to end of December."
Hicks described the new hard-sided shelters that TSOS residents will inhabit.
These are Very Sturdy Shelters with Room for up to Four
"They're hard-sided shelters made by PalletShelter.com. They bolt together and then they will be anchored down on the ground and they can withstand 100 mile an hour winds and they can also withstand a snow load of 25 pounds per square foot."
Hicks continued.
"They have room for four beds inside," he said. "It's kind of a bunk bed thing. That doesn't mean we will put four people in them. But we can house obviously couples and families of up to four. They will have heat and electricity as well, which will all be great steps in helping these folks go from houselessness to learning how to maintain their own place to moving on to more stability and sustainable housing for them."
Most of the Authorized Camping Site will Qualify for TSOS
With the impending closure of the Authorized Camping Site (ACS) near the Super Walmart, Hicks said the majority of those being displaced might qualify for one of the hard-sided shelters at TSOS.
"There are some qualifications that have to take place and I would have to check for sure, but I know it's between 19 and 21 of those folks that were at the ACS, that are going through the process to be added to the new, temporary safe outdoor space, " he said. "Meaning that they've agreed to the rights and the responsibilities and they're ready to move forward. We're so happy that we can expand and we can help take the pressure off the unhoused since the close of the ACS."
Hicks said passage of the Crisis Intervention Levy on the ballot is an integral part of the TSOS and its plans moving forward.
"However, if the crisis intervention levy does not pass, there are so many other pieces to that levee that will affect this," he said. "From the mobile response team to so many other teams that are out there right now helping bring stability to people. Peter, I can't imagine what it's going to look like if it doesn't pass. Missoula will move backward in our care that we've been able to do and so I'm just looking forward that it's going to pass."
The present TSOS opened in November 2020.
10 Best Steakhouses in Montana
If you live in Montana, you have to love a good steak dinner now and then. Luckily, here in Montana, we have steakhouses that spread far and wide throughout the state. If you are traveling through Montana or vacationing around the state, give one of these places a try.
10 Incredibly Boring Towns To Avoid in Montana
Not every town or city in Montana is as glamorous as you might expect. So we compiled a list of the most boring towns you should avoid while vacationing or traveling around Montana.
More From Newstalk KGVO 1290 AM & 98.3 FM