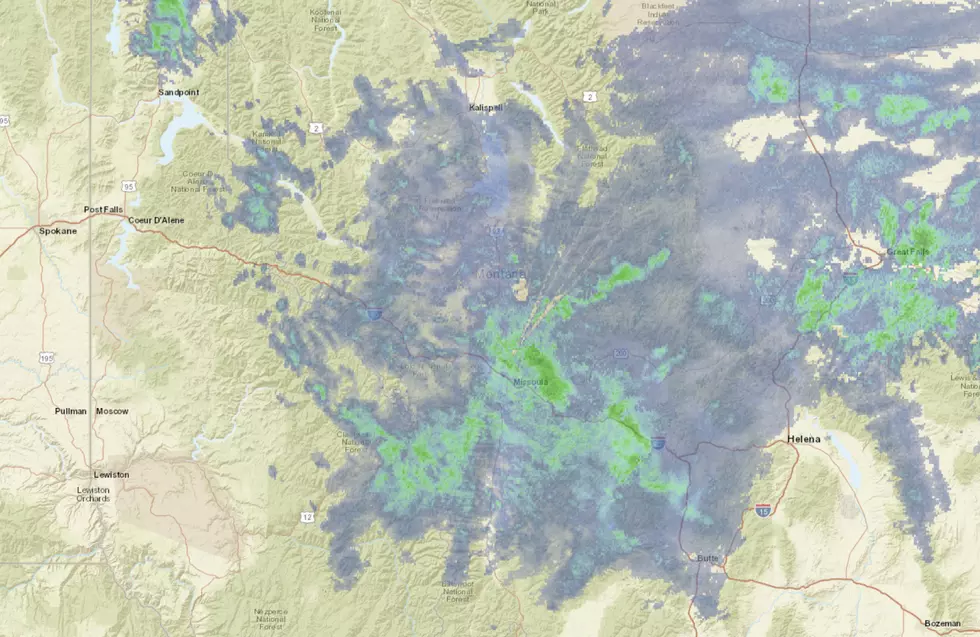 Strong Montana Cold Snap Still Ready To Snap This Weekend
National Weather Service
While lingering warm air continued to hold the snow at bay Friday, forecasters with the National Weather Service office in Missoula say all the elements are there for a very raw, stormy weekend in Western Montana. 
And that's going to mean dangerous driving conditions and then dangerous cold.
Thursday's warm-up meant most Northwest and West Central Montana started Friday with rain, or mixed rain and snow showers. The exception was in the Upper Clark Fore Valley east of Missoula, where the Missoula County Sheriff's Office was warning of severe driving conditions on I-90 until mid-day. 
Snowfall rates could be heavy
NWS forecasters say heavy snow showers are still expected through Friday evening, with snowfall rates hitting 1-inch per hour in some locations. As the anticipated arctic front pushes in from the east, some areas could see 1 to 2-inch-per-hour snowfall. Generally, 1 inch per hour is the threshold where driving can become very hazardous, with limited visibility and potentially several conditions. 
The arctic front is moving a little slower than had been forecast but is still expected to "bump into the Divide" this evening, with the cold air starting to filter into the usual areas like the Blackfoot, Upper Clark Fork, and Badrock Canyon east of Columbia Falls late tonight. The expected burst of snow is expected to be followed by a period of "flash freezing", where all the moisture we've been receiving quickly becomes icy, leading to very hazardous driving conditions through Saturday morning. 
Gusty winds could also be a problem along the east shore of Flathead Lake with "lake effect" snow, as the cold air comes over the relatively warm water of the lake, which has been ice-free in recent days. 
Then, get ready to layer up again
As the Winter Storm Warning expires, temperatures are expected to drop dramatically behind the front. NWS expects the overnight low in Missoula Saturday to plunge to -6, and -17 below in the Upper Blackfoot Valley, including Seeley Lake. Kalispell is expected to be -10 with Hamilton hitting -11. 
Temperatures could be an additional two or three degrees colder Monday morning. 
Forecasters say the outlook for next week is unsettled, but they expect temperatures will slowly moderate by mid-week. 
READ MORE: Do You Have to Shovel in Missoula in Dangerous Cold?
READ MORE:  Is the Cold Killing Montana's Fish?
Yellowstone National Park Rebuilds After Historic Flooding
After catastrophic flooding damaged portions of Yellowstone National Park in June of 2022, major reconstruction was necessary to make the park passable again. The following are photos of the improvement projects at Old Gardiner Road and the Northeast Entrance Road. All photos are courtesy of the National Park Service, photographer Jacob W. Frank.
More From Newstalk KGVO 1290 AM & 98.3 FM