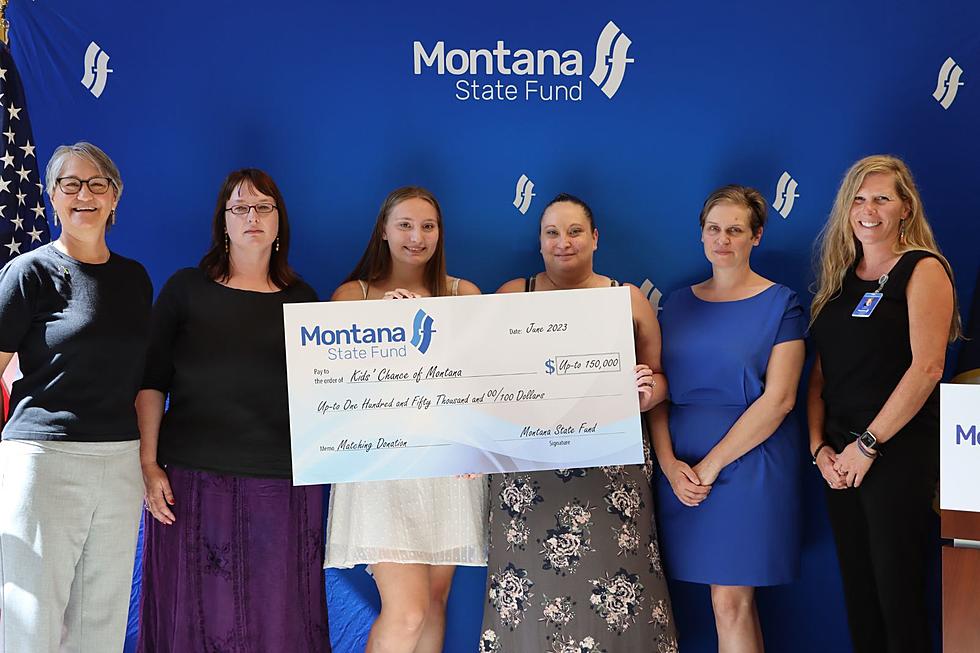 Daughter of Wounded Montana Trooper Receives College Scholarship
Credit: Montana State Fund
Missoula, MT (KGVO-AM News) - Mia Palmer, daughter of Montana Highway Patrol Trooper Wade Palmer who was gravely wounded in the line of duty in 2019, received a scholarship on Thursday from Kids' Chances of Montana, from up to $150,000 donated by the Montana State Fund, the state's largest and leading workers compensation insurance company.
Following the ceremony in Helena, KGVO spoke to Holly O'Dell, President and CEO of Montana State Fund described the funding mechanism that led to Mia Palmer's scholarship award.
Trooper Wade Palmer's Daughter Receives College Scholarship
"Kids Chances of Montana was celebrating a scholarship to one of their many recipients," began O'Dell. "Today is for Mia Palmer, so Mia is headed off to college next month and received a scholarship from Kids Chances for her work there."
Mia's mother Lindsey explained to KGVO how the scholarship was awarded to her daughter Mia.
Lindsey Palmer Described the Essay her Daughter Mia wrote for the Scholarship
"I am so incredibly grateful to Kids' Chances of Montana for awarding the scholarship to Mia so that she can help me make her dreams come true for her future," said Mrs. Palmer. "We filled out the application and wrote an essay explaining what had happened to her father in the line of duty and how this would impact her life, and from there she was awarded the scholarship. When we found out we were just over the moon. We were so excited for Mia."
Mia Palmer Held her own Fear and Grief in Check for her Younger Sister
Mia Palmer described the how she had to hold her own grief and fear over her father's wounds in check in order to comfort her younger sister after the tragedy that occurred in 2019.
"To write the essay I really kind of had to go back to when the accident first happened, and how I personally felt about it and all of the feelings and the emotions that I was going through, and then having to try to remain intact especially for like my little sister because she was having a really hard time," said Mia Palmer. "I really wanted to show her that things were going to be okay, and that everything would work out in the future and that not too much was going to change when in fact I knew at the time that a lot was going to change."
Mia Palmer described the $4,000 scholarship she received from Kids' Chances of Montana.
"In terms of receiving the scholarship, it just it just meant so much to me and to know that what I have done has just paid off," said Mia. "I don't know I'm not feeling like left out of everything when I've tried so hard to be included in everything. So I'm going to use the scholarship for my tuition and I'm going to the University of Idaho in Moscow. So I am going to go into their interior design program, because they have one of the best programs. I'm super excited to go there and just do something that truly makes me happy and that will keep me on my toes for the future."
The Montana State Fund will be donating about $30,000 a year when matched with $30,000 per year in donations from other sources.
The ceremony took place at the Montana State Fund headquarters in Helena.
LOOK: Highest-paying jobs in Missoula
Stacker
compiled the highest paying jobs in Missoula, MT using data from the U.S. Bureau of Labor Statistics.
More From Newstalk KGVO 1290 AM & 98.3 FM