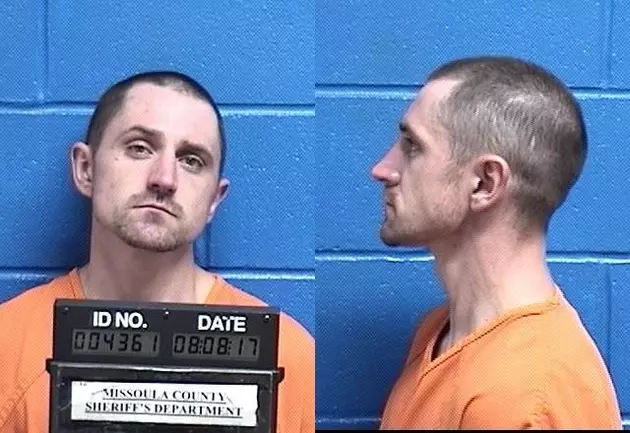 Man Caught Sleeping Behind Wheel With Meth and Heroin in Missoula is Felon From North Dakota
Photo courtesy of Missoula Jail
Missoula police received a call around 8:30 Tuesday evening that a man had fallen asleep behind the wheel of his car in the 3200 block of North Reserve Street. Missoula Police Public information officer Travis Welsh describes what happened next.
"They did find the vehicle, they also observed a male, identified as 27-year-old Dillan Hopfauf in the driver seat with his head back and his eyes closed," Welsh said. "The officers woke him up, identified him, asked him to step out of the car, and when he did so they identified a hypodermic needle on the floorboard."
Hopfauf received a felony charge for possessing both meth and heroin, he also received a DUI and an additional charge which followed him here from out of state.
"The car was running and the keys had been in the ignition until Mr. Hopfauf took them out of the ignition and shut the car off," Welsh said. "Mr. Hopfauf was arrested, and it turns out that Mr. Hopfauf was on probation in the state of North Dakota and had not told his probation officer he was traveling to Montana, so they issued a warrant. "
Just two years ago, Hopfauf was caught under strikingly similar situations by police in Dickenson, North Dakota. The Grand Forks Herald reports that police, found him "glassy-eyed" in a parking lot with both meth and heroin.
More From Newstalk KGVO 1290 AM & 98.3 FM