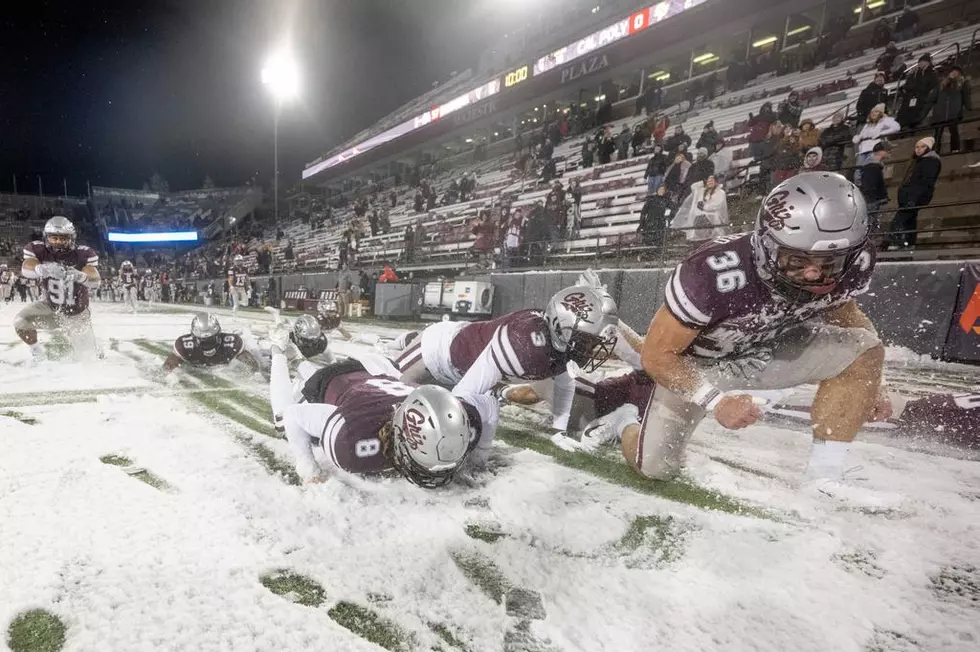 Montana Griz Having Fun, Breaking Attendance Marks as Home Season Ends
Photo Courtesy; Tom Martino/University of Montana Athletics
There might not be as many "Ws" on the season record as the Montana Grizzlies and their fans would like. But this season is still turning out to be one of the best supported since well before the pandemic. 
And last week's blizzard blowout over Cal Poly also tested stadium announcer Peter Christian's voice, leading the crowd in the "First Down Montana" yell a record 37-times. 
Actually, those 37 first downs were a record, breaking the previous mark of 35 set in a game against Idaho State in 2019. UM Director of Communications for Football, Eric Taber, says the record before that was 34 first downs set against Monmouth, also in 2019 and against South Dakota a decade ago. Interestingly enough, Offensive Coordinator Timm Rosenbach was also the OC for Montana in those games too. 
A bigger point is this year's attendance.
Taber Saturday's "Blizzard Bowl" was the third-straight sellout for the Griz, which hasn't happened since 2015. And it looks like Saturday's game against Eastern Washington will also be a sell-out.  
We can't tell you whether fans bought more coffee to ward off last week's cold. Or how many hardy souls remained to finish the blowout. But those that did got to see some of the Griz doing a slide in the snow. Taber believes that was a first. Although he does remember snow angels after that legendary nationally televised playoff game in the snow against Appalachian State in 2009 and the 2014 win over San Diego, also in the postseason. 
2022 Montana Griz Homecoming Parade
Missoula, MT - A collection of floats, banners, pageantry and fun during the 2022 University of Montana Homecoming Parade, the 1st in two years.
More From Newstalk KGVO 1290 AM & 98.3 FM