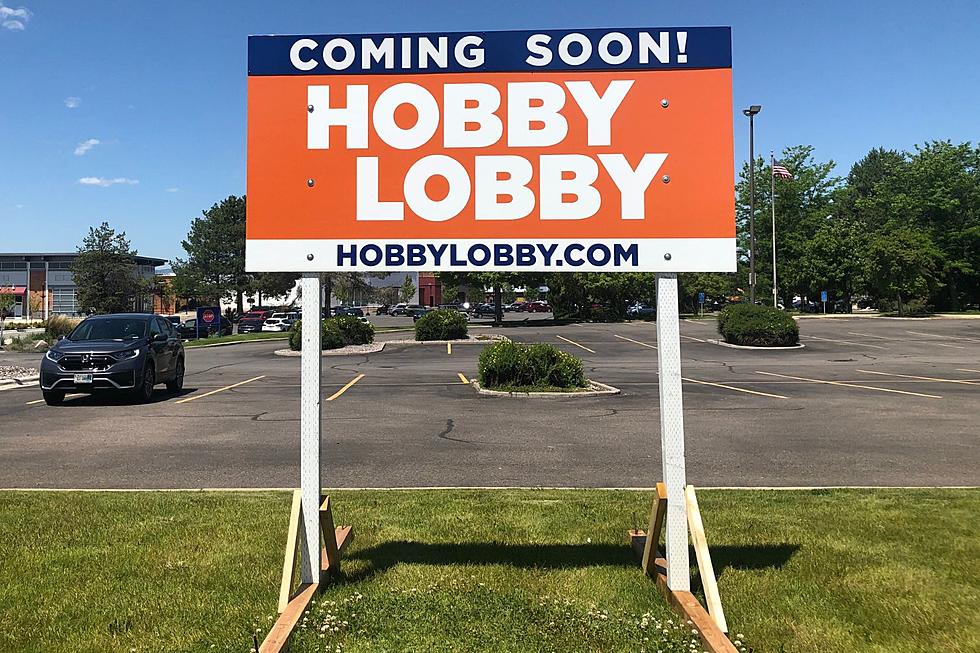 When Will Hobby Lobby Open in Missoula?
Credit: Peter Christian
Missoula, MT (KGVO-AM News) - Anyone driving down Brooks Street over the past week has undoubtedly seen the big sign promoting the new Hobby Lobby store that will be opening in Missoula's Southgate Mall.
KGVO News spoke to Southgate Mall general manager Tim Winger this week for details about the highly anticipated opening of the store that will feature, as the store's website states, 'over 70,000 items featuring home decor, seasonal decor, tableware, floral, art supplies, craft supplies, yarn, fabric, jewelry making, hobbies and much more'.
The New Hobby Lobby Store will Open Early in 2024 at Southgate Mall
"They'll be facing Brooks Street, right there out front," began Winger. "They are currently under construction. The Hobby Lobby contractors are on site and from what I understand the opening date is going to be after the first of the year in the first quarter of 2024."
Winger said a majority of the mall facing Brooks Street will be utilized for the new Hobby Lobby.
"It's been gutted, the whole thing has been gutted and they will start from the ground floor and build a brand new Hobby Lobby in that building," he said. "In addition to the Lucky's Market space, they will use the additional about 20,000 more square feet to the west. That will take the rest of the entire building so it'll be a good-sized Hobby Lobby."
Hobby Lobby Researches the Placement of each New Store
Winger said a large retail organization like Hobby Lobby does a great deal of research before deciding where to place one of its retail stores.
"I believe that when retailers that are big box (stores), they have a lot of data that they're able to collect and when they decide to open a store they're pretty sure what its volume will be. It'll be a nice addition to the mall and will definitely attract people from all over the region."
Hobby Lobby has come under fire for its unapologetic Christian worldview and policies. Again, according to its company website:
'We are committed to: honoring the Lord in all we do by operating the company in a manner consistent with Biblical principles; offering our customers exceptional selection and value; serving our employees and their families by establishing a work environment and company policies that build character, strengthen individuals, and nurture families, and providing a return on the family's investment, sharing the Lord's blessings with our employees, and investing in our community."
In 2014 the U.S. Supreme Court ruled 5-4 in favor of Hobby Lobby's owners.
According to the company's website:
'The Supreme Court granted a landmark victory for religious liberty on June 30, 2014, ruling that individuals do not lose their religious freedom when they open a family business. The court ruled 5-4 in favor of David and Barbara Green and their family business, Hobby Lobby ruling they do not have to violate their faith or pay severe fines.
At issue in Burwell v. Hobby Lobby (previously Sebelius v. Hobby Lobby Stores), was the Health and Human Service (HHS) Mandate which would have required David and Barbara Green and their family business Hobby Lobby to provide and facilitate four potentially life-terminating drugs and devices in their health insurance plan, against their religious convictions, or pay severe fines. The Greens argued that the mandate substantially burdened their religious beliefs in violation of federal law, the Religious Freedom Restoration Act.
In an opinion by Justice Alito, the Court stated: "The plain terms of RFRA make it perfectly clear that Congress did not discriminate . . . against men and women who wish to run their businesses as for-profit corporations in the manner required by their religious beliefs…. Our responsibility is to enforce RFRA as written, and under the standard that RFRA prescribes, the HHS contraceptive mandate is unlawful."
KGVO has reached out to the Hobby Lobby headquarters for a comment about the store and the opening of its location in Missoula.
Update on the Texas Roadhouse Grill
In addition, KGVO asked about the progress of the new Texas Roadhouse Grill currently under construction at the mall's main entrance.
"They're really rolling," he said. "They're a bit ahead of schedule and we're anticipating right now an October opening for Texas Roadhouse."
24 Closed Missoula Businesses We Wish We Could Bring Back
We asked Missoulians which of their favorite businesses that have closed down would they like to see make a triumphant return. Here's what they came up with.
More From Newstalk KGVO 1290 AM & 98.3 FM