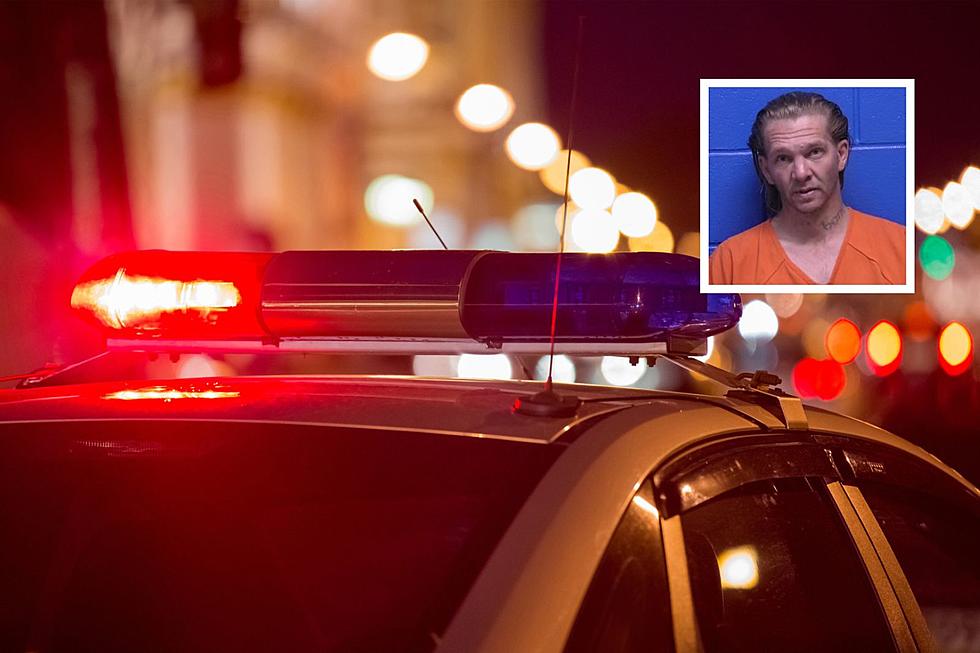 Hatchet Threat in the Middle of a Busy Missoula Street
File photo: artolympic, Getty Stock/Think Stock; Mug Shot: Missoula Jail
Missoula, MT (KGVO-AM News) - At approximately 1:06 a.m. on May 20, 2023, a Missoula Police Department Officer was dispatched to South Avenue W. and Reserve Street for the report of a disturbance that occurred between two males. A male, John Doe, advised that a male in a red Ford SUV with a broken-out back window had pulled out a hatchet and threatened him.  
While the officer was responding to the location, Doe advised that the male had left the location and drove southbound on Old Fort Road. Doe parked his security truck in the Community Hospital parking lot and awaited law enforcement's arrival. The officer arrived and spoke with Doe who advised that he was on shift for Black Night Security. Doe stated that he had just finished patrolling the area of Walmart north and merged onto Reserve Street from Clark Fork Way driving southbound. 
Doe expressed that he had caught up with the red Ford SUV just south of the Reserve Steet bridge and continued driving behind it as he was on his way to patrol the area of Fort Missoula. Doe advised that while driving behind the vehicle, he remained at a reasonable distance and reasonable speed. Doe stated that as both vehicles took a right turn onto South Avenue West, the vehicle abruptly stopped in the middle of the road in front of the fire station located at 2521 South Ave W. 
The Male Grabs Something From His Vehicle 
Doe initially thought that the vehicle was having issues until the male occupant stepped out of the vehicle and began yelling. Doe stated that the man stated something to the effect of "I've got a problem with people following me." Doe stated that after the male asked him if he was following him, he returned to his vehicle and began grabbing something.  
Doe expressed that when he observed this behavior, he began to feel concerned for his safety. Doe stated that at this time he turned on the high beams in his vehicle to get a better view of what the male was retrieving. The male retrieved a hatchet and began walking towards Doe's vehicle in a threatening manner.  
Doe advised that when the man retrieved the hatchet, he unholstered his firearm and placed it on his lap. Doe stated that the man continued to walk towards his vehicle and yelled something to the effect of "Are you going to shoot me? I am ready to die." Doe then put the vehicle into reverse and began backing away from the man, who was standing in the middle of the road yielding the hatchet. 
Doe described the hatchet as a 3-foot-long grey axe that appeared to have a pointed edge on one side. Doe advised that after he began driving in reverse, the man returned to his vehicle and left the scene. Doe expressed that while the stranger was approaching his vehicle with the hatchet he feared for his life and that he was going to have to defend himself by using his firearm. Doe stated that during their interaction, the man got within 15-20 feet of his vehicle. Doe advised that he did not exit his vehicle at any point. 
Officers Locate the Suspect Male
Meanwhile, another officer responded to the area in an attempt to locate the suspect vehicle. The officer conducted a search of the license plate and it came back to a 42-year-old Joseph Kincaid. Dispatch advised the officer that Kincaid has officer safety alerts for keeping multiple edged weapons inside his vehicle. While driving north on Reserve St, the officer located Kincaid and his vehicle in the south parking lot of Goodwill.  
The officer made contact with Kincaid who immediately began talking about being stalked. According to court documents, Kincaid's speech was rapid and his thoughts were disoriented, jumping from topic to topic rapidly. Kincaid displayed paranoia. Kincaid had difficulty remaining stationary and constantly moved his arms. Based on the physical indicators and his training and experience, the officer believed Kincaid to be under the influence of a stimulant. An officer asked Kincaid when the last time he used methamphetamine, and he stated two days prior. 
Kincaid admitted to having a knife and axe inside his vehicle. He was arrested and transported to the Missoula County Detention Facility. He is currently being charged with felony assault with a weapon. 
The information in this article was obtained from sources that are publicly viewable.
Inside Look at the New TSOS Shelters
The Temporary Safe Outdoor Space new hard-sided shelter facility officially opened on Thursday, January 5. The TSOS is just off West Broadway near the new Trinity affordable housing complex.
Great Options for Used and Second Hand Stores in Missoula
Missoula Montana embraces sustainable shopping and there are many good options for finding used and secondhand goods in town.
More From Newstalk KGVO 1290 AM & 98.3 FM