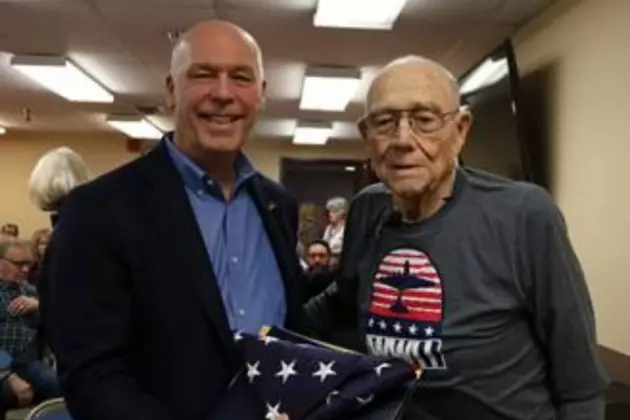 Gianforte Honors Two Montana Veterans, Shares Heroic Story
Gianforte presents James Geiger with the Montana Congressional Veteran Commendation
On Friday February 21, 2020, Congressman Greg Gianforte honored two Montana veterans for their service. At the VFW Post 1087 in Great Falls, Gianforte presented the 2019 Montana Congressional Veteran Commendation to U.S. Army veteran Justin Madill of Great Falls.
In the afternoon, Gianforte recognized U.S. Army Veteran James Geiger of Conrad with the commendation. Gianforte visited the KGVO studio on Tuesday to talk about the event.
"I was up in Conrad this week with a gentleman named James Geiger," Gianforte said. "Geiger is a World War II vet who flew B-17's in the European theater and I was able to honor him with the Montana Congressional Veteran Commendation award. I flew a flag in his honor over the capital and presented to him at the Pondera Medical Center."
Gianforte shared a heroic story of the World War II veteran.
"This man was flying over Europe and the B-17 got all shot up," Gianforte said. "I think the gunner and navigator got shot. They are flying back to their base and Geiger gets out of the pilot seat, turns the plane over to the copilot, goes in the back, stops the bleeding, saves both the men's lives, climbs back into the pilot seat in front of the B-17, and lands the plane. Both men recovered."
Gianforte said practically the whole town showed up for the ceremony.
"He is now 97-years-old living at the Pondera Medical Center and everybody turned out," Gianforte said. "It was standing room only. It was a great event. It was so appropriate that we honored James Geiger for his service to his country and his community."
Gianforte launched the annual Montana Congressional Veteran Commendation in 2017 to recognize outstanding Montana veterans who have honorably served our nation and our communities. Each year, Gianforte asks Montanans to nominate Montana veterans for the award.
More From Newstalk KGVO 1290 AM & 98.3 FM