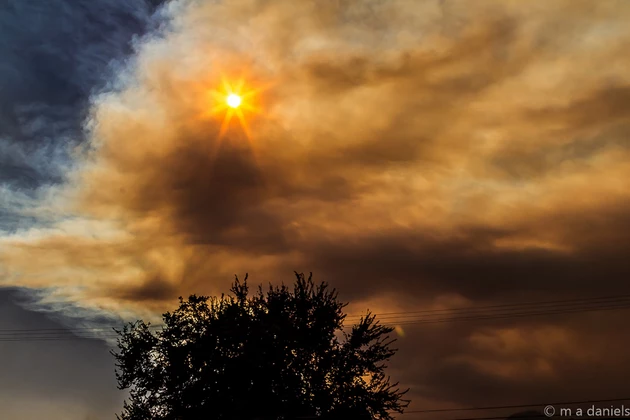 Forest Fire Smoke – 'F' Grades for Missoula and Ravalli Counties
August smoke above Hamilton in 2016. (Mike Daniels, Townsquare Media)
A new report from the American Lung Association gives many western Montana counties a failing grade ("F") for "short-term" air quality - due to smoke from forest fires. The data from 2014-2016 used hourly air monitor levels and averaged them for daily 24-hour totals. The three-year results showed Ravalli County having two total days with Very Unhealthy levels, 13 days with Unhealthy levels and 19 days that were Unhealthy for Sensitive Groups. Missoula County had no days with Very Unhealthy levels, 11 days with Unhealthy total level and 7 days with Unhealthy for Sensitive Groups. Eight other counties receiving "F" grades included Flathead and Lincoln Counties.
The report does not include 2017's record forest fire season. And, as far as the Annual Grade for air quality, both Missoula and Ravalli Counties received a "Pass" Grade for "long-term" air quality. And as far as Ozone levels (Smog), Montana had no unhealthy days, receiving an "A" rating from the lung organization.
The numbers used in the study come from the National Ambient Air Quality Standard, using Parts Per Million levels. The ratings are based on the three previous years where daily data has been compiled. The total figures for last year were not available for this report. So, the next report, to be released in 2019, will have the results from the devastating 2017 fire season.
Another story about Missoula's air quality is here.
More From Newstalk KGVO 1290 AM & 98.3 FM