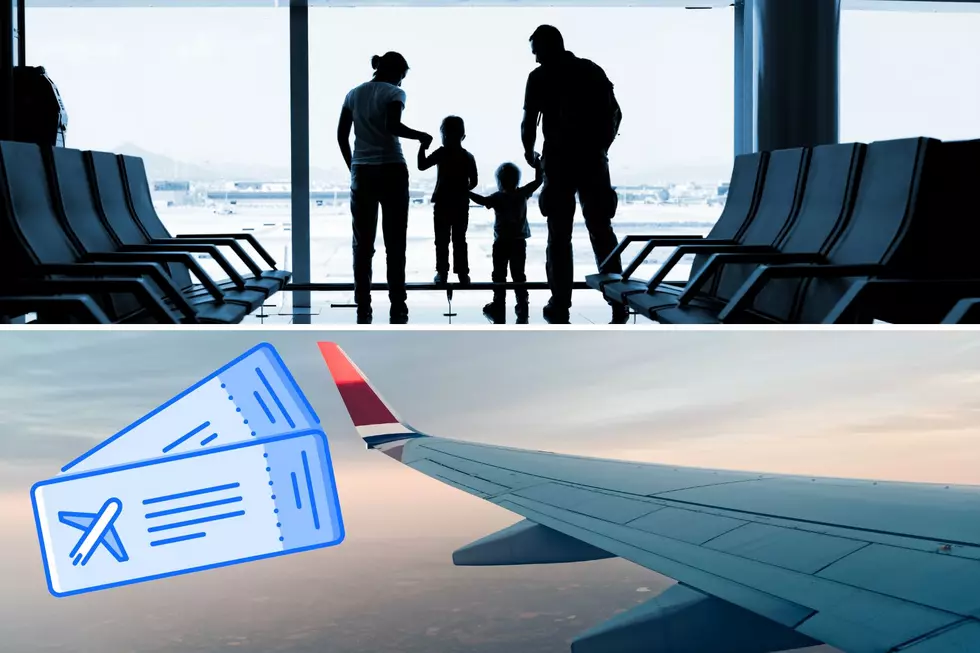 14 Destinations to Visit With Direct Flights From Missoula
Photo: Canva
The new terminal at the Missoula Airport has been the talk of the town for the last few weeks. After the opening date was pushed back about a month, and an open house was held for the public to get a first look, the terminal opened on June 8 for airlines and travelers. I had two friends use the new terminal on opening day. One flew out of the airport and said that everything was fantastic. The other was someone that lives out of town and they were very impressed with what they saw, especially when they had to get their baggage at the old terminal and were able to compare the two.
How many nonstop destinations can you travel to out of Missoula?
There's a photo gallery at the bottom of this page that showcases some of the new additions to the airport. Check out the new staircase, large screens for arrivals and departures, new technology for TSA screening, fancy new restrooms (for humans and service animals,) KettleHouse Tap & Grill, Cold Smoke Tavern, panoramic view, and more. I can't wait to book a flight and see it all for myself.
Hmmm, wherever will I go when it comes time to book that getaway? I know it has to be somewhere with a direct flight so that I don't have to deal with layovers. I guess that narrows it down to 14 options! Did you know that's the number of nonstop destinations the Missoula Airport offers? Six airlines serve the airport and nonstop flights are provided to 14 cities.
Here's a list of places to visit (and things to do while you're there) with nonstop flights out of the Missoula Montana Airport.
**Note: some destinations operate with seasonal flights**
Chicago
I'm not saying you should book a flight for the sole purpose of grabbing some Chicago deep-dish pizza, but I have heard worse ideas! It would be pretty awesome to channel your inner Ferris Bueller and take in a baseball game at the legendary Wrigley Field. And Twinkies were invented just outside of Chicago! I wouldn't leave until I found a "home of the Twinkie" t-shirt.
Dallas
If you're not a Dallas Cowboys fan, and you can get over the fact that you're going to the home of the Dallas Cowboys, I guess Dallas seems like it would be a fun place to visit! Aside from the opening dig about the Cowboys, I would actually like to see the stadium that they play in. Fun fact: the Statue of Liberty could fit inside the stadium with the roof closed. I'm guessing you can also find plenty of John F. Kennedy history to keep you busy. And while you're in Big D you would have to check out some Texas BBQ.
Denver
I just Googled Denver and it says there are more than 200 parks within the city. It sounds like it would be a great place for a family vacation. I've always wanted to see a show at the Red Rocks Amphitheatre as it's one of the coolest concert venues in the country. And if you've done Glacier and Yellowstone a few times and need a change of scenery, you could check out Rocky Mountain National Park.
Las Vegas
Sin City! Good ol' "lost wages." I don't think it's even worth trying to name things to do in the entertainment capital of America. You're never at a loss for something to do when it comes to concerts, entertainment shows, clubs, sporting events, comedy, food options, shopping, etc. For what it's worth, nothing beats a day around a hotel pool and a trip to Margaritaville in my book.
Minneapolis
I don't know much about Minneapolis but I think I know enough to say that rule number one would be to book a summer trip. Nobody wants to be in Minnesota in the winter! It looks like there's plenty for tourists to do for entertainment with art museums, farmer's markets, the Minneapolis Zoo, and an aquarium. Plus, go a little more than an hour outside of town and you'll find the world's largest ball of twine like Weird Al sang about in his appropriately titled song, 'The Biggest Ball of Twine in Minnesota.'
Los Angeles
Keep your eyes open for celebrities as you make your way around town. How about a little family fun at Universal Studios Hollywood? I think it would be pretty cool to attend a taping of Jimmy Kimmel Live! Or, if you can score good enough seats to the Lakers game, yell at LeBron James and ask him what he was thinking when it comes to Space Jam 2.
Orange County
If you're ready to spend your life savings in one weekend, Orange County is the destination as it serves as the home of Disneyland. You also have Knott's Berry Farm, water parks, scenic hiking trails, wineries, the beach, and so much more. You'll be glad this is a nonstop flight back to Missoula when you're worn out from all the fun!
Oakland
The city doesn't quite offer up the same amount of must-see destinations as some of the other California places on our list. But MC Hammer was born in Oakland. I suppose if you're a hardcore fan you could search out his childhood home and take a selfie with it in the background. If you still have time, maybe squeeze in the Oakland Zoo and the Children's Fairyland amusement park.
Phoenix-Mesa
With year-round sun and warm temperatures, Phoenix works for a getaway at any point of the year. The first thing that comes to mind is playing golf in December while it's snowing in Missoula. If you're a racing fan, the Phoenix Raceway holds two NASCAR race weekends a year. And if you feel like you'll be missing the M Trail while you're away from home, Camelback Mountain should serve as a nice temporary replacement to get you out and hiking. If you're looking for a road trip once you hit Phoenix, you can take a long drive to the Grand Canyon or Hoover Dam.
Portland
The city of roses is also the largest city in Oregon. Portland definitely has its own vibe and is known in part for its parks, bike paths, breweries, and coffee shops. Boy, does that remind you of any other place you know? I haven't spent a great amount of time in Portland but I did see Jimmy Buffett at the arena there one year. I would totally recommend that with five stars! If you love Veera Donuts in Missoula, you'll have to check out Voodoo Doughnuts when you get a sweet tooth in Portland. Also, the Freakybuttrue Peculiarium might have the greatest name of any business I've ever heard. Check it out for unusual and offbeat items as well as strange and creepy exhibits.
Salt Lake City
If you ski you probably already know that the largest ski resort in the country is about an hour outside of Salt Lake City. If you're not making the trip to shred some serious powder, there's also the natural history museum, trolley tours, and Great Salt Lake (the lake from which the city gets its name.) You can tour Utah Olympic Park which was built for the 2002 Winter Olympic Games, and Big Cottonwood Canyon looks pretty cool if you're a nature fan.
San Diego
Beaches and the San Diego Zoo are a couple of things that come to mind when I think of San Diego. Of course, those rank #2 and #3, right after the famous San Diego Chicken! The San Diego Air & Space Museum looks pretty neat and the USS Midway is a former active aircraft carrier that now serves as a floating museum.  I would also have to take a little time to learn the history of San Diego while I was there. Up until now, I've just taken Ron Burgundy's words to be true when it comes to how San Diego got its name.
San Francisco
Alcatraz? The Golden Gate Bridge? Fisherman's Wharf? All in due time! But personally, I'm starting by telling the Uber driver, "Drop me off outside the house that was used for the opening credits on Full House and I'll take it from there." After that, I might take a ride on a cable car or a double-decker bus and end up sampling beverages in Napa Valley.
Seattle
It doesn't get any better than the short flight between Missoula and Seattle. You're not even into REM sleep when the in-flight announcement says you're about to land in the Emerald City. The Museum of Pop Culture is very cool and was founded by Microsoft co-founder Paul Allen. From there you can walk over to the Space Needle, Seattle's iconic landmark. And what trip to Sea-Town would be complete without stopping by Pike Place Market and seeing the sights?
WOW! Photos from the Newly Opened Missoula Airport
The wait is over and the new terminal at the Missoula Montana Airport opened June 8, 2022. Get a peek inside from the perspective of a passenger.
25 Pictures of Montana's Most Beautiful Highway
Have you ever driven the most beautiful highway in Montana?
LOOK: Route 66's quirkiest and most wonderful attractions state by state
Stacker
compiled a list of 50 attractions--state by state--to see along the drive, drawing on information from historic sites, news stories,
Roadside America
, and the National Park Service. Keep reading to discover where travelers can get their kicks on Route 66.
More From Newstalk KGVO 1290 AM & 98.3 FM