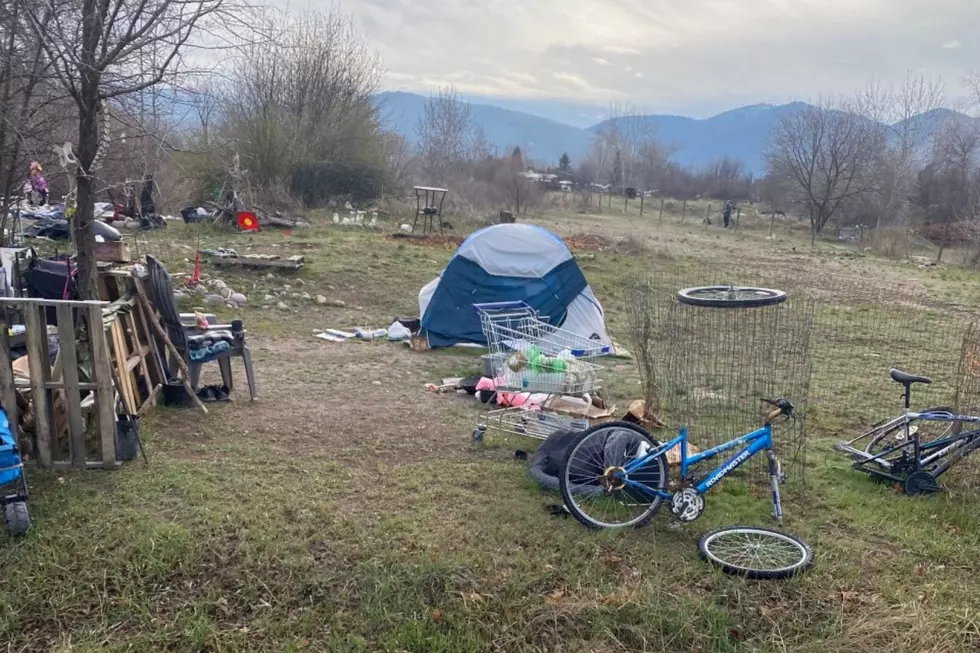 Emergency Shelter Closure Will Lead to Urban Camping in Missoula
Credit: Brian Panian
Missoula, MT (KGVO-AM News) - On April 10, the Johnson Street Emergency Winter Shelter will officially close its doors and the over 100 people that have slept there every night over the winter will be looking for another safe place to spend the night.
KGVO News has been following the continuing story of the homeless (or whatever term you prefer) in Missoula, most specifically since the opening of the first TSOS (Temporary Safe Outdoor Space) tent based camp off of Highway 93 South across from the Buckhouse Bridge.
In addition, for the past three years, the City of Missoula and the Poverello Center have also operated the Johnson Street Emergency Winter Shelter, funded by federal COVID pandemic money.
Urban Camping will Occur Again Once the Winter Shelter Closes
City Councilor Gwen Jones attended the recent ZOOM meeting focused on the upcoming closure of the shelter presented by the Poverello Center and shared some of the results of that meeting from Poverello Center Executive Director Jill Bonny.
"She initially went over some numbers and she stated that last year (2021-2022) they averaged about 70 people per night at the Johnson Street Emergency Winter Shelter," she said. "This year (2022-2023) they have averaged 100 people a night and on those super cold nights they've had up to 165 people that they have sheltered there. So the numbers have been bigger this year than last year."
Even though it was revealed last week that the shelter itself will not be deconstructed anytime soon, Jones said the funding for the shelter simply no longer exists.
"The funding going forward is a big issue," she said. "Our tool is of course property taxes and to expand our budget to include something like funding for a winter shelter. We asked the community for the Crisis Levy and that did not pass, so we've got to try and figure out how else we can possibly fund an emergency winter shelter this coming year."
So, with the closure of the Johnson Street Shelter and the Authorized Camping Space near Super Wal-Mart, Jones said there will undoubtedly be tent shelters appearing around Missoula, also called urban camping.
Federal Court Decisions Allow Urban Camping Where no Alternative Exists
"The bottom line was we were discussing that there's probably going to be some more urban camping this summer," she said. We're just we're going to be seeing folks and they're going to be more visible. Now, under the Ninth Circuit Court cases of Boise and Martin, they can be camping in the right of way if there is no shelter to go to, or that can take them. But on the other hand, also the city of Missoula feels strongly that it cannot lead to a situation that is not safe, where there are feces or needles or garbage and there are some health and safety issues as a sideboard."
The City of Missoula has a Specific Plan to Deal with Urban Camping
Ginny Merriam is the City of Missoula Communications Director. KGVO asked Merriam to specifically spell out how city and county authorities will deal with urban campers step by step as they appear.
"What we do try to do is balance compassion for people living in that situation with an equal part of compassion for property owners, homeowners, and business owners, who are also living in Missoula," began Merriam, who said the response to urban campers will begin with an official complaint to city or county authorities.
"It's very complaint-driven," she said. "People will call the city and say there are people camping and it's usually either at the edge of a public park or it's adjacent to a park or it's in a city right of way. Since our parks (Missoula Parks and Recreation) staff are on the front line, they will go and talk to the people and say, this really isn't a good place for you to camp and we're going to be cleaning up this camp. Usually, they say about in 72 hours, so they give them a few days."
Merriam said the next step in enforcement involves the Poverello Center's HOT (Homeless Outreach Team).
"The park staff will get in touch with the Homeless Outreach Team that works for the Poverello Center," she said. "The Homeless Outreach Team members will visit the people and talk with them about what their alternatives might be. Sometimes they find alternatives and (the campers) are completely gone and have taken their belongings when parks' staff returns."
Law enforcement will become involved only if there is a threat of violence to the city and Poverello employees.
Merriam told KGVO News that Missoula is just one of the hundreds of American communities dealing with homelessness and its aftermath.
"In Los Angeles, there are 40,000 homeless people," she said. It's in Kalispell, it's in Billings, and it's I don't think it's only because of housing prices. I think we also have lots of untreated mental illness and we have a real social crisis."
'If This is the Norm, This is Not Good'
City Councilor Jones closed the conversation with KGVO with this statement.
"We need to do our best to try and get these folks sheltered and to a better life," she said. "But it's the fact that we're seeing this nationwide and statewide that says to me it's really a structural issue. I hope at the federal and state level there are some discussions regarding structurally why this is happening because it's not the world that I want to live in where this is just the norm. This is not good."
Inside Look at the New TSOS Shelters
The Temporary Safe Outdoor Space new hard-sided shelter facility officially opened on Thursday, January 5. The TSOS is just off West Broadway near the new Trinity affordable housing complex.
Great Options for Used and Second Hand Stores in Missoula
Missoula Montana embraces sustainable shopping and there are many good options for finding used and secondhand goods in town.
More From Newstalk KGVO 1290 AM & 98.3 FM