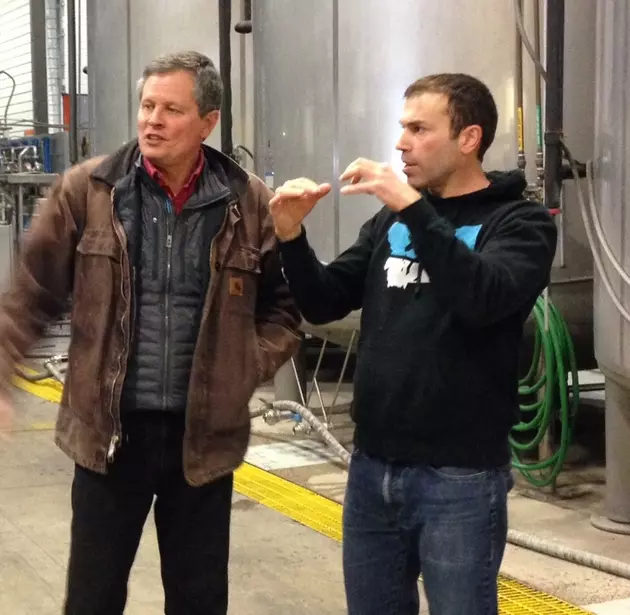 Daines Talks Tax Cuts with Missoula Brewer – Misses Protesters
Daines Beer
Montana Senator Steve Daines met with owners and employees at Big Sky Brewing Company on Wednesday morning to talk about the impact of the recently passed tax cut bill.
After a tour of the brewery, Daines said he has spent the last few days visiting with businesses owners, farmers and ranchers all over the state.
"Here at Big Sky Brewing Company, it's a six-figure benefit," Daines said. "A few hundred thousand dollar windfall for this small business here in Missoula. I asked the leadership here what they intend to do with it, and they said we're investing it in our people and our equipment. There's probably some bonuses coming for the employees, and that's what these tax cuts are all about."
Daines said the reaction to the tax cut bill from Democrats has been comical in his view.
"There's been some pretty terrible rhetoric coming out of people like Nancy Pelosi and Chuck Schumer during the debates, Nancy Pelosi said it was going to be Armageddon," he said. "Bernie Sanders said it was criminal activity. Criminal activity for cutting taxes? Really, Bernie?"
After meeting with Daines, waiting outside on the sidewalk were members of Missoula Rises, who were waiting to confront Senator Daines about a host of issues, including his apparent refusal to meet face to face with his constituents.
Mary Kuhr was wearing a Missoula Rises pin on her lapel.
"Senator Daines' constituents have been waiting for a chance to meet with him for over a year, and so yesterday we found out from a press release that he was going to be here from 11:30 to 12:15 to meet with Big Sky Brewery and his constituents, so many of us took time out of our busy day and we were informed by the lovely young lady in the tap room that Senator Daines would not be meeting with his constituents, and we're really frustrated. He's touting the success of his tax cut plan, and we have concerns about the increase in the federal deficit. We're frustrated by the fact that we can't meet with our own senator. Our impression is that he's hiding from us."
Senator Daines' office reached out to KGVO News to explain the timing of Wednesday's event.
"For the Senator's travel, we always provide extra time for travel, especially during bad weather. Today (Wednesday) we ran ahead of schedule. We try to avoid being late and having folks wait."
More From Newstalk KGVO 1290 AM & 98.3 FM