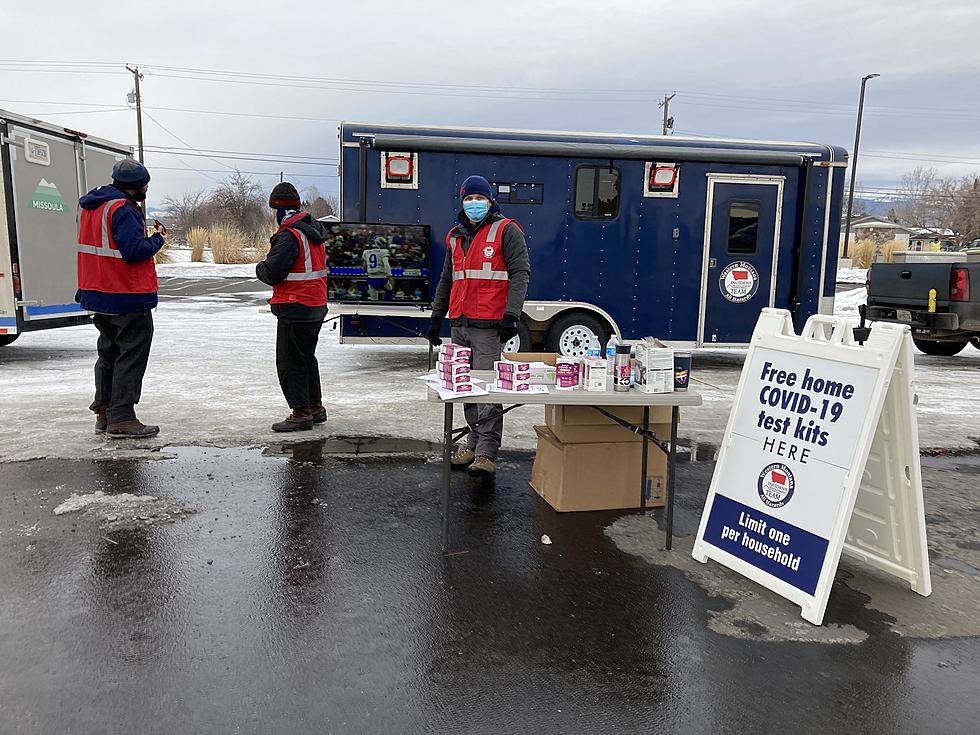 County Distributes over 6000 Home Test Kits, Thousands Left Over
photo provided by Nick Holloway
On Sunday, Missoula County officials distributed thousands of COVID 19 home test kits at several locations around western Montana.
Director of Missoula County's Disaster and Emergency Services, Adriane Beck described Sunday's event in Missoula, first thanking all the volunteers involved in the giveaway.
"First off, just want to give a huge shout out to the Emergency Response Team (CERT) who was able to help us with traffic control and flow for the event at Fort Missoula Regional Park on Sunday," said Beck. "They did a great job keeping traffic moving and we saw great turnout for Missoulians. We distributed just under 6000 at home test kits as they drove through our stations."
Beck was asked how the at-home kits differ from the tests given at medical facilities.
"I think as we've seen this pandemic unfold, we've seen lots of different at home test kits," she said. "Different manufacturers have different packaging and different lengths of swabs, different ways to use them. But generally these at home antigen tests do the same thing and that they detect COVID in someone who is symptomatic. They do that very well and give you either positive or negative results."
Beck said only a fraction of the tests given to Missoula County by the state have yet been distributed.
"The kits that we were distributing were supplied by the state of Montana," she said. "Governor Gianforte procured about 650,000 of these and then they were distributed out to communities within Montana based on a population allocation. Missoula County received just under 26,000 of these test kits. And so as I mentioned on Sunday, what we saw come through Fort Missoula Regional Park was just under 6,000, and so we'll be working with community partners and more information to come about future distribution sites."
Beck said the at-home kits are best used when someone in the household is showing symptoms of having COVID 19.
"If you're just trying to say 'do I have COVID because I want to get on a plane or I want to travel and I don't have any symptoms', they're not really going to tell you that," she said. "If you don't have symptoms and you test, it doesn't necessarily give you an accurate reading. You really need to take these at home tests when you do have symptoms, or when you have a high degree of knowledge that you've been around someone who's had COVID and you have those symptoms."
The Missoula City County Health Department referred to the county and the state of Montana as to when more test kits will be distributed, or how to obtain a kit if you missed Sunday's free distributions.
How to Use the KGVO App and Helpful Features You Need to Discover
Download the KGVO App to access Talk Back On Demand, receive alerts with the latest news, and hear featured guests anywhere anytime.
Fun Indoor Activities Around Missoula to Entertain Your Kids
Looking for some entertainment while the winter weather keeps the kids inside? Here are a few indoor activities around Missoula that will help pass the time.
READ MORE: 10 free apps to help you get fit in our new normal
More From Newstalk KGVO 1290 AM & 98.3 FM