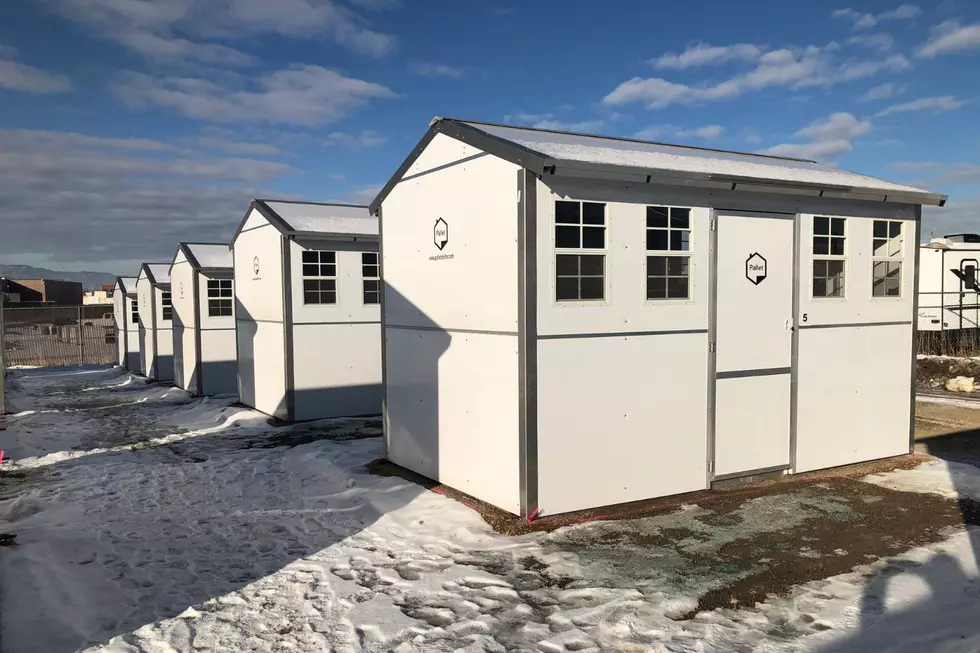 $402,000 Annual Budget for TSOS Now Falls on Hope Rescue Mission
Credit: Peter Christian
Missoula, MT (KGVO-AM News) - The new hard-sided TSOS (Temporary Safe Outdoor Space) shelter is officially open for business in its new location in front of the Trinity Affordable Housing complex under construction just off West Broadway in Missoula.
During last week's press conference that previewed the grand opening, KGVO spoke to Jim Hicks, Executive Director for the Hope Rescue Mission, where he referenced the fact the his nonprofit charity would be responsible for the annual budget of the TSOS, just over $402,000.
Hope Rescue Mission takes over a Heavy Responsibility with TSOS
Hicks provided more details to KGVO over the weekend about where much of that money has come from in the past.
"Right now our budget, and some of this, I would say is still within the learning curve of what it's going to take to operate, but it is just a little over $400,000 I think about $402,000," began Hicks. "To date, that is still a mixture of different grants, ARPA (American Rescue Plan Act) money, and CARES Act (Coronavirus Aid, Relief, and Economic Security Act) money. That CARES Act money and that ARPA money will sunset in June of this year."
It Started with the Failure of the Crisis Levy and the Sunset of Federal Funds
Hicks said the pressure is on the Hope Rescue Mission to find a way to replace that federal money, and it's becoming a nightmare.
"So basically, Peter, what keeps us awake at night is that we've got about six months to figure out how we're going to fill the gap between some help with grants with the county with United Way," he said. "Hope Rescue Mission itself comes up with about $100,000 a year through donations to complete the gap to make that $400,000 budget."
All That Being Said, Hicks is 'All In' with the TSOS
Hicks said his organization is 'all in' to find a way to help what he sees as a successful transformational program.
"On the county side, and on our side or partner sides, we basically have six months to figure this out," he said. "That said, we're committed to helping this population. We're committed because of the transformation we've been able to see and for those that genuinely want a hand up and moving forward, and so we are going to continue to do whatever we can to keep this moving forward."
He said a majority of the TSOS residents are employed in Missoula.
"That's one of the markers," he said. "Many of them do have jobs and if not, we find out why not and then how we can help them get those jobs. So yeah, it's not a place just to come and hang out. It is a place to come and get in and cooperate with a path to move forward."
Hicks said one component of his plan is correcting the public's misconceptions about those individuals being helped at the TSOS facility.
"One of the things is just good old education about those that are housed," he said. "There's the myths of that we're bringing people in or busing people here but most of our residents at the Temporary Safe Outdoor Space, whether it was at the Buckhouse bridge location or now on Broadway have been long-term residents. A very small percentage have been from out of town."
Hicks said there are three vital components to helping the Hope Rescue Mission keep its funding for the TSOS.
"The donation piece is huge," he said. "We have a great staff that is helping. Most of them have lived the experience, so they can relate to these folks. They know what it takes. And that's just huge. So there are all kinds of ways to do it. But I think the education piece, volunteering, and the donation piece are the three biggest parts."
Make donations through the Missoula County United Way or directly to the Hope Rescue Mission.
Get to Know Missoula A to Z
All about Missoula, Montana.
LOOKING BACK: Photos of Missoula and How It's Changed
Check out these photos of how Missoula has changed over the past decade.
More From Newstalk KGVO 1290 AM & 98.3 FM