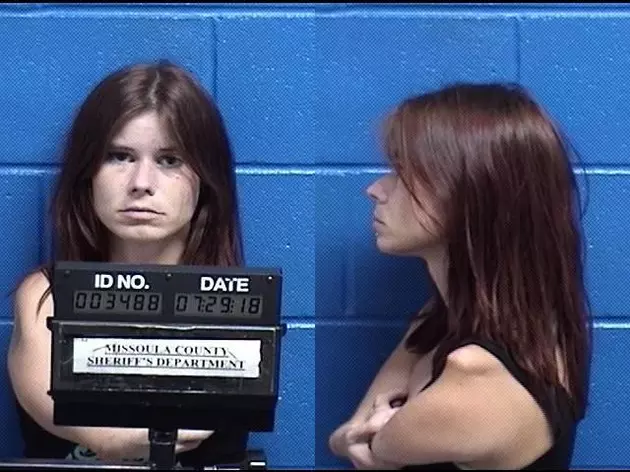 Suspect Accused of Trapping Ex in Storage Unit Complex, Ramming Vehicle with 5-Year-Old Inside
Photo courtesy of Missoula Jail
Missoula police received a call from a man early this morning, July 30, who was trying to retrieve some things from a storage locker and got trapped.
"About 3:36 a.m. officers were notified that a male had called 911 reporting that his ex-girlfriend was blocking him into a storage facility in the 2500 block of Murphy Street and not allowing him to leave," said Missoula police Public Information Officer Travis Welsh.
While police were on the way to the distress call, they noticed a vehicle pulling away from the storage unit with a damaged front end. They stopped the car and found a suspect, 30-year-old Amber Silva driving the vehicle. it appears the situation had escalated after the distress call.
"By the time he was ready to leave he returned the storage unit key to the female who had blocked him into the facility and was not moving to allow him to leave," Welsh said. At one point, he was moving from one exit to another and then back again and the female had actually driven into the facility and struck his vehicle in the passenger side where his five-year-old daughter was in her car seat."
Silva is now facing two charges of felony criminal endangerment for putting her ex and his child at risk. She's also facing a misdemeanor charge for Unlawful Restraint. Welsh says the child was examined by first responders, but the father declined to have her taken to the hospital.
More From Newstalk KGVO 1290 AM & 98.3 FM