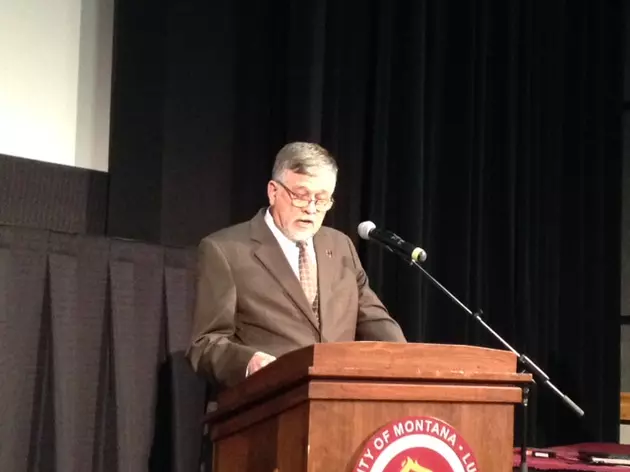 UPDATE – Preliminary UM Fall Enrollment Numbers May Include A Decrease of 700 Students
Royce Talk
UPDATE - 7:00 p.m. Wednesday, September 14.
NBC Montana reports that the 2017 UM budget plans for a drop in fall enrollment of 6.6 percent, which could be 700 fewer students, or more. 
The Montana Board of Regents is meeting on Wednesday in Billings, and officials are hinting that there will be few surprises when it comes to enrollment throughout the university system.
Spokesperson for UM President Royce Engstrom, Paula Short, spoke with KGVO News during a brief recess in the meetings.
"The Commissioner of Higher Education's Office has given some very broad, very preliminary estimates based on enrollment," Short began. "The commissioner did present to the regents that system-wide, enrollment appears at this time to be consistent with the budget at each of those units. So, that means that enrollment is going to fall consistent with the budget that has been prepared at the University of Montana."
Short said UM officials worked on their budget with a general sense of the number of students that would be on campus. According to the NBC Montana story, 'projected student enrollment budget summaries for the 2017 fiscal year that show the university prepared for a drop in enrollment by 6.6 percent.'
"They build the budget based on their enrollment projections, and even without having a firm idea of what, for example, the freshman class might be looking like on any given year," she said. "They do know that the trend at U of M has been for graduating classes that are bigger than the incoming classes, so they've been able to use some of that trend data, and the good news is that the projected enrollment is going to be in line with how they've built the budget."
Short said officials at UM and throughout the Montana University System will be able to publish firm numbers towards the end of September.
A continuing drop in enrollment at the University of Montana has led to staff and budget cuts, along with unrest with the faculty, support staff and students. A new vice president, Dr. Tom Crady, has been hired to help turn the enrollment problem around. He is in his first year on campus.
More From Newstalk KGVO 1290 AM & 98.3 FM