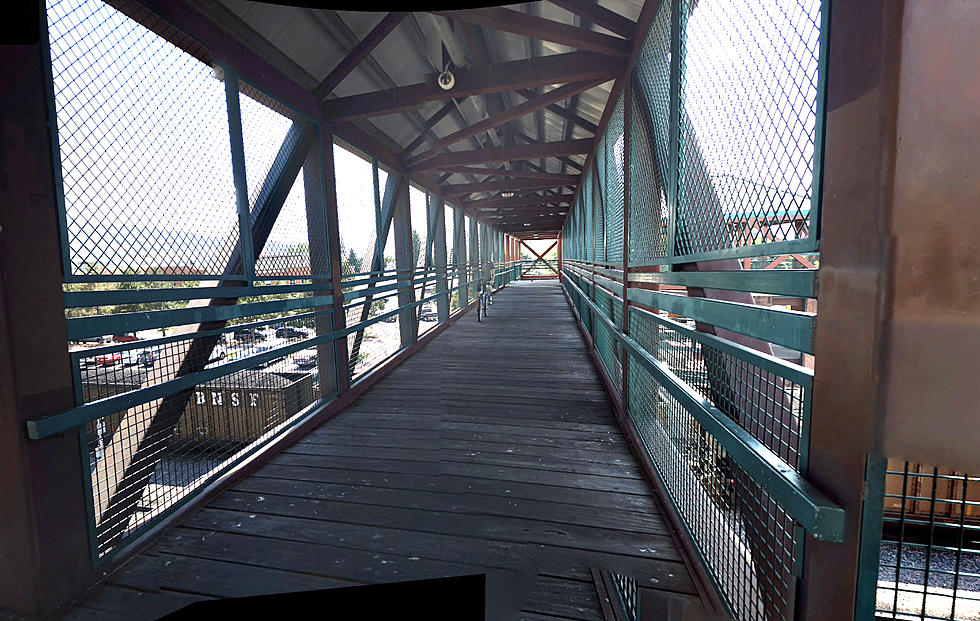 Missoula Northside Pedestrian Bridge Cost Climbs to $2.5 Million
The Northside Bridge has been closed since September; Google
The cost of repairing a key bridge for walkers and bikers on Missoula's Northside has climbed to an estimated $ 2.5 million. But the City of Missoula officials say the project remains the city's "top transportation priority".
And if they can get a competitive bid from a contractor in the next few weeks, there's the hope of having the rebuilt Northside Pedestrian Bridge ready for people to use by the end of the year.
The closure of the bridge last September has thrown major problems in the path of commuters who walk, or bike to work and depend upon the span to safely cross over the train tracks through the heart of the city.
Problems with the condition of the bridge first showed in 2016, when crews noticed the metal deck "pan" of the bridge was rusting. The city launched plans to get repairs complete, but by the time that was funded and ready to happen in 2021, serious cracks were discovered in the masonry bridge supports. It finally got so bad, the bridge was closed because of safety concerns.
This week, the Missoula Parks and Recreation Department said it's accepting from bids from contractors now, and hoping to get a competitive bid so work can start by late summer.
Engineering consultants have told the city it's more cost-effective to repair the bridge
While there was discussion of replacing the bridge altogether, engineers have told the city it's more "practical" to make repairs, although that work will be extensive. The masonry walls will have to be replaced with concrete, the existing concrete ramps replaced and the electrical systems replaced.
The city already has $900,000 for the project and is working to secure additional funding.
The Top 5 Most Rural Post Offices Of Small Town Montana
Some of Montana's rural post offices don't even make it onto Google Street View, but they're incredibly important hubs in rural parts of the state. We did a little digging and found a few hidden gems. Take a look!
More From Newstalk KGVO 1290 AM & 98.3 FM