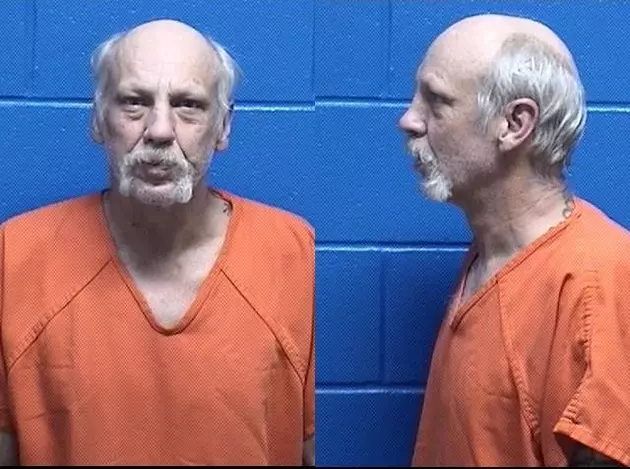 Naked Man Gets Arrested for Felony DUI and Disorderly Conduct
Photo Courtesy of the Missoula Jail
Around 9:25 a.m. on Thursday, Missoula Police Officers were dispatched to an area in the 1500 block of Benton Avenue. The complainant reported that his former employee was running around naked in the parking lot outside his business, banging on his motor home's windows, and making suicidal comments.
The complainant also reported that he believed the man had likely used methamphetamine based on his current observations and prior experiences with him as an employee. Police Public Information Officer Travis Welsh explains.
"The male left in a vehicle before the officers arrived, but the officer met with the complainant who identified the male," Welsh said. "The officer took the man's identity and discovered that he is on probation and is a registered violent offender. The man was identified as 58-year-old Vincent Culp."
An officer began patrolling in the area and he spotted a vehicle that matched the description given by the complainant.
"He initiated a stop on the vehicle and Culp did exit the driver's side," Welsh said. "He was wrapped from the waist down only in a blanket and immediately began yelling at the officer in what was described as a very animated fashion. The officer approached Culp, told him about the complaint, and was concerned that Culp was in fact under the influence of some type of narcotic."
According to Welsh, Culp was detained for his safety and he was transported the Missoula Police Department.
"The officer applied for, and was granted, a search warrant related to a DUI investigation," Welsh said. "During the course of that process, Culp continued to yell, was animated, kicked at the officers, and pulled away from them."
Court documents indicate officers observed Culp throwing the mattress pads in the cell, climbing the bars, punching and running into the windows and walls, and striking his head against the window. An officer decided to place Culp back into handcuffs because he refused to follow verbal commands.
When the officer entered Culp's holding cell, Culp immediately ran to the opposite side of the cell and started striking the window. Culp was eventually secured, despite his continued struggling and fighting with officers.
Culp was transported to the Missoula County Detention Center and he is currently being charged with one count of felony DUI and disorderly conduct. Culp has three prior DUI convictions.
CHECK THEM OUT: States With the Best and Worst Commutes
More From Newstalk KGVO 1290 AM & 98.3 FM