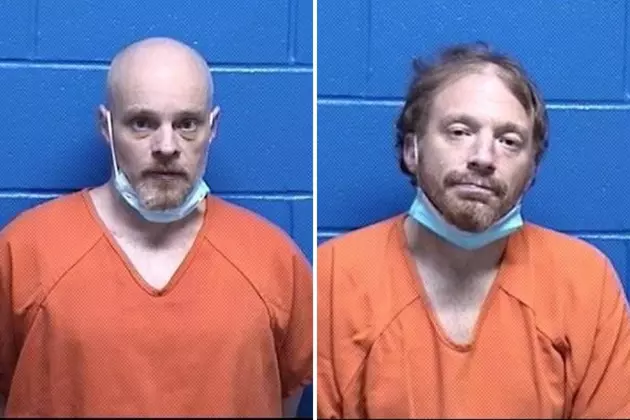 MPD Arrest Two Men for Having Meth and $2,000 Worth of Stolen Items from Costco
Photo Courtesy of the Missoula Jail
At around 12:15 p.m. on Sunday, a Missoula Police Officer was conducting patrol when he observed a vehicle he recognized, bearing Montana License Plate PORKCHP. On Saturday, a theft was reported from Costco where a male was seen running out of the store with a shopping cart full of products. The male was then seen getting into a vehicle with that same exact license plate. Police Public Information Officer Travis Welsh explains.
"An officer was in the area of West Central and Stephens Avenue when he observed a car parked there that he recognized from a description given on a felony theft that had occurred the day before at a warehouse store in the 3200 block of North Reserve Street," Welsh said. "The officer made contact with two males occupying the vehicle. He also made observations of items in the vehicle that matched the description of stolen items from the store the previous day."
Court documents indicate numerous items had been taken from the store, totaling upwards of $2000 in merchandise.
"The two males were identified as 40-year-old Robert Philips and 42-year-old Jason Hensley," Welsh said. "Both men were arrested for offenses of felony theft and possession of methamphetamine and drug paraphernalia, which they were found to be in possession of during the course of this investigation."
An officer asked Philips for permission to search his vehicle, which was granted. During the search, the officer discovered several butane torches, a pipe, a hypodermic needle, and several small baggies of methamphetamine.
During a search of Hensley, an officer found a small baggie of methamphetamine in his pocket.
Philips was charged with felony theft and Hensley was charged with felony accountability for theft. Both men were also charged with felony criminal possession of dangerous drugs, which was a second or subsequent offense.
LOOK: 50 photos of American life in 2020
More From Newstalk KGVO 1290 AM & 98.3 FM