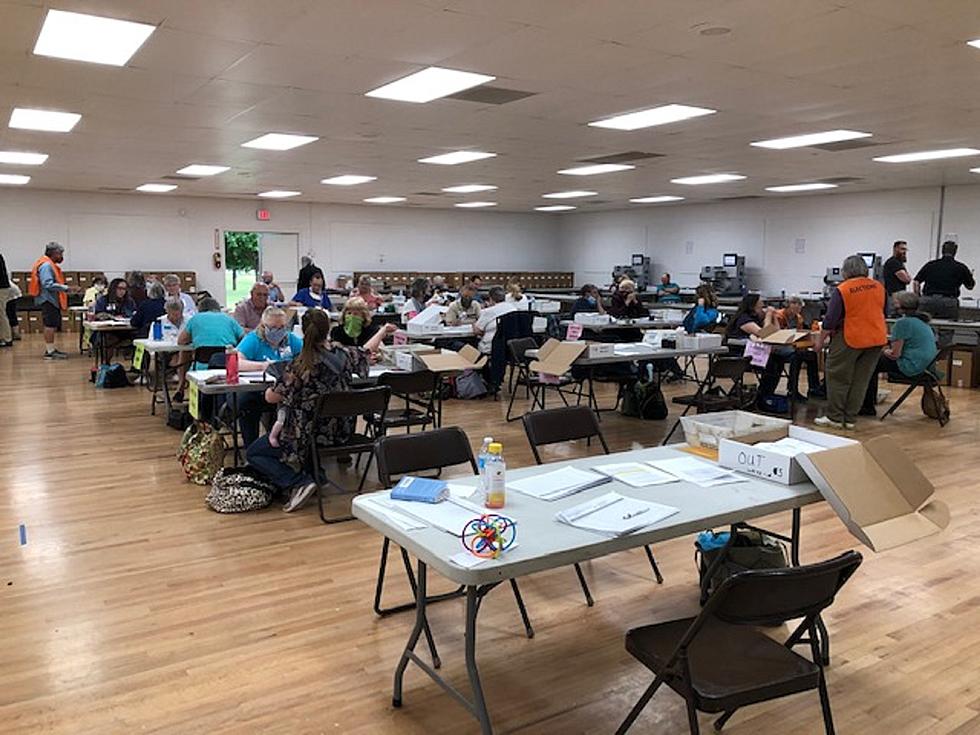 Missoula Has Already Received Over 40 Percent of the Ballots
photo by Peter Christian
Missoula, MT (KGVO-AM News) - As of Wednesday, the Missoula County Election Center has received just over 40 percent of the mail-in ballots that were sent out in October.
KGVO News spoke to Missoula County Elections Administrator Bradley Seaman for details of the ballots received so far with the general election next Tuesday, November 8.
Over 40 Percent of the Mail in Ballots have been Received
"As of yesterday, we were just over 40% of our absentee ballots returned," said Seaman. "So, not yet over half of the ones that we've mailed out have yet come back in. We really wanted to flag that because a week out of the election is when the US Postal Service recommends that you mail your ballot in to ensure it gets delivered through the mail."
Here's What Happens to Your Ballot
Seaman explained the process used once the ballots arrive in the mail at the Election Center.
"When we receive ballots here they go through a multi-step process of checking the signature, sorting them, ensuring that there's a secrecy envelope inside there with a ballot, and then preparing them to count," he said. "As we do that process, it takes a little bit of time, and we want to help make sure that voters know about that important date from the Postal Service and know about some of our other ballot drop-off items."
Seaman said the majority of ballots are mailed in and provided details about the numbers expected at the polling places.
"Out of the primary election we received only 2,500 ballots from our polling places," he said. "So if we were to double that number, that would mean that we would be receiving about 5,000 ballots from our polling places for this upcoming election. So one of the things we're really doing is making sure that those voters know about their polling place and information, at my voter page mt.com, so that anybody else who has a mail ballot, making sure that they're aware of the best way to return those to our office."
What About that Lawsuit? County Commissioners Comment
Referencing the fact that Dr. John Lott and the Missoula County Election Integrity Project went to court to ensure the recording of the ballot count, Seaman said seeing the process live is a much better option.
"More than just recorded, you're going to take a look at a recording and you're going to say, 'Hey, what happened here'? And we're going to have to turn around and say, 'Well, I'm not positive what happened there'. This is open to the public. This is available to be present to see it happen firsthand. Rather than watching a video and trying to determine what happened at this point in time for this ballot in this circumstance, come and take part in person. The people who come in person, feel confident in our process, they learn about these processes that we do, how we protect the integrity of the vote, and get to ask questions and have those questions answered live."
Below is the official comment on the court order from the Missoula County Commissioners:
'Missoula County has and will continue to prioritize security, accuracy and transparency in our elections, despite efforts to cast doubt on the system, here and nationwide. Missoula County does not concede any of the legal issues the plaintiffs raise. Contrary to Mr. Lott's claim, the recent order formalizes an agreement to retain surveillance footage from election buildings beyond the standard 30-day retention window, as well as reports, only during the litigation. The County will hold them until the court makes a final determination about how long they must be retained going forward. Our staff are currently focused on providing excellent service to voters as we head into the upcoming election, and we will continue to litigate this case in court, not the media.'
I Bought an Old House in Missoula: It's My First Time Renovating
As with any renovation project, we ran into a few mishaps when we began renovating the 1952 ranch-style home we bought in Missoula, but some of the changes we made were easy and immediately rewarding.
LOOK: Historic 2022 Flooding in Southern Montana Not Soon to Be Forgotten
Widespread flooding wiped out roads, bridges, buildings, and powerlines throughout riverside communities from Yellowstone National Park and Paradise Valley to Red Lodge. The Yellowstone River winding through Billings crested Tuesday, June 14, 2022. At 11:30 a.m. the National Weather Service in Billings reported the river rose above flood stage and was forecasted to hit 14.7 feet, nearly hitting the 15-foot record set in 1997.
More From Newstalk KGVO 1290 AM & 98.3 FM