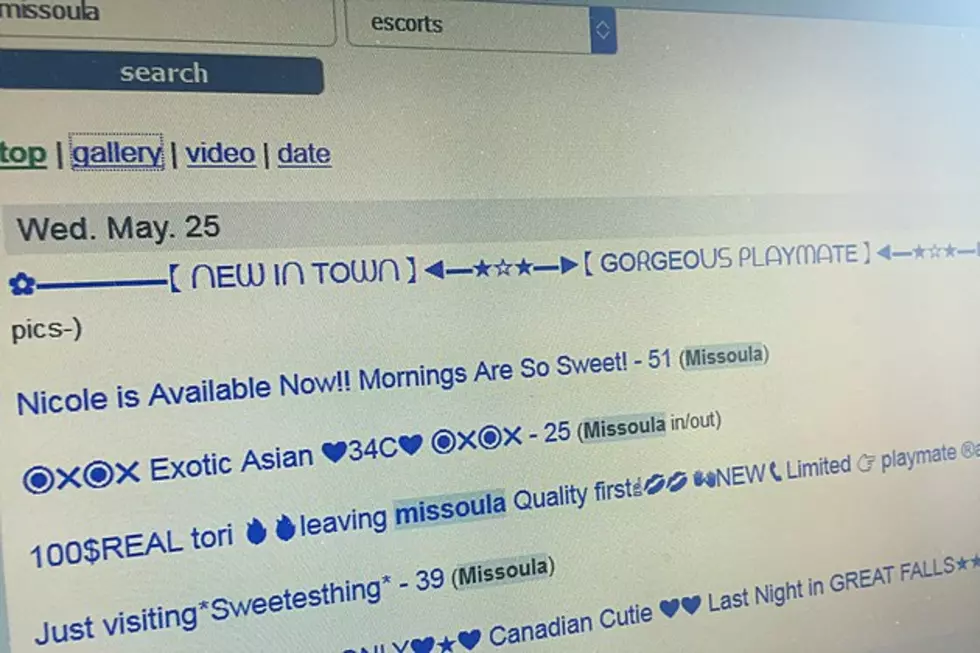 Missoula Community Asked to Help Stop Human Trafficking at Local Forum
Human Trafficking
This week law enforcement officers from around the northwest will converge in Missoula for training on how to spot and prevent human trafficking and the community is asked to help too. Missoula Police Detective Guy Baker says human trafficking often correlates with drug trafficking, something which has spiked in Missoula recently.
"There is a definite correlation, in fact, a couple of our past historical drug conspiracies that our task force has worked that in the trafficking of methamphetamine and heroin also involved the trafficking of females," Baker said. "Human trafficking is the second leading crime industry in the world these days behind drugs at number one and before weapons at number three."
Missoula County Sheriff's Department Chaplain Lowell Hochhalter says homeless youth are often targeted for human trafficking, and there are hundreds in local area.
"When we talk about homeless, we're talking about those kids that will couch surf. They're going from home to home, they're not staying at their home, or they are staying in a camper or they are living in their car. I think Missoula would be shocked to know how many truly homeless youth we have. It makes them completely vulnerable to an exploiter, to a trafficker who can come in and say 'you don't deserve that, you shouldn't life like that, you come with me, I'll care about you.'"
A Community Awareness conference on Sex Trafficking in Missoula will be held this Thursday at the University Center Theater at UM. The conference is free and open to the public and will feature presentations by a diverse group of those that confront the issue, including Andrea Griffin, a local mother of a trafficking victim. Below is the full itinerary...
Sex Trafficking Community Awareness Conference Agenda
8:00 AM - 10:00 AM Sex Trafficking Overview Detective Guy Baker, Missoula Police Department
10:10 AM - 11:30 AM Protecting the Vulnerable Lowell Hochhalter, LifeGuard Group
11:30 AM - 12:00 PM Understanding Trauma Bonding Julie Clark, Missoula Salvation Army
12:00 PM - 1:00 PM Break 1:00 PM - 2:00 PM Sexual Exploitation via the Internet Agent Gary Seder, Montana Division of Criminal Investigation
2:10 PM - 3:00 PM Parent Experience & Perspective Andrea Griffin, Mother of trafficking victim
3:10 PM - 4:00 PM Survivor Experience & Perspective Teanna Colvin, Trafficking victim
4:10 PM - 5:00 PM Protecting Our Children in the Digital Age Tara Bradford, DeliverFund
5:00 PM - 6:00 PM Break 6:00 PM - 7:30 PM Video: "I Am Jane Doe"
7:30 PM - 8:30 PM Panel Discussion This free conference is open to the public.
Conference venue is the University Center Theater on the UM campus. Parking will be permitted on 1st & 3rd levels of parking structure near the library. Doors open at 7:30 AM - Please arrive 15-30 minutes early because seating is limited. Contact Detective Guy Baker via (406) 552-6284 or GBaker@ci.missoula.mt.us for questions.
More From Newstalk KGVO 1290 AM & 98.3 FM