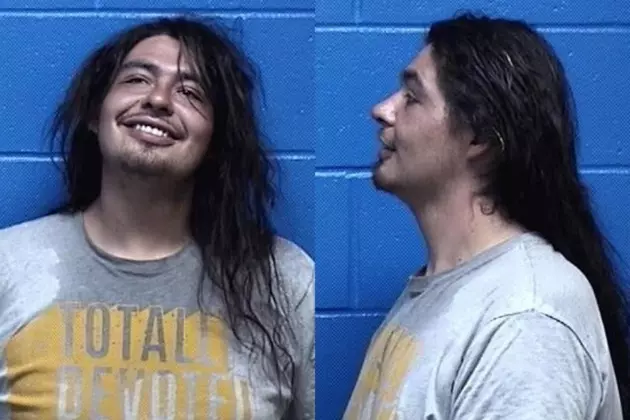 Man Threatens Missoula Police With a Knife at the Poverello Center
Photo Courtesy of the Missoula Jail
At around 1:50pm on Saturday, a Missoula Police Department Officer requested 25-year-old Antonio Moreno to leave the Poverello Center because he had already been trespassed from that property earlier in the day. Police Public Information Officer Lydia Arnold explains.
"Officers had trespassed Moreno at the Poverello's request due to Moreno being verbally uncooperative and confrontational with staff," Arnold said. "Officers were told Moreno had been drinking alcohol on the property and had been exhibiting hostile behavior for most of the day. Another concerning factor was the fact Moreno had a pocket knife and that he had grabbed at it multiple times."
Arnold said officers requested Moreno to leave the property and he complied.
"However, shortly later, Moreno returned to the property and officers once again made contact with him," Arnold said. "During this interaction with Moreno, officers were attempting to speak with him and reminded him of his previous trespass. Officers had hoped Moreno would leave the property like he had done moments before. However, Moreno took his large pocket knife, opened the blade, and began waving it around."
Fearing for the safety of bystanders, officers requested they leave. Officers then informed Moreno that he was under arrest. Moreno, still ignoring instructions regarding putting his knife away, stood up and continued to flail the knife in the direction of the four officers.
"Officers were cognizant of the people around them, the safety risk Moreno was presenting, and gave strong commands for Moreno to drop the knife," Arnold said. "Initially, Moreno did not comply. However, after multiple clear commands to put the knife down, Moreno put the knife down. Officers used the necessary means to take Moreno into custody. Moreno continued to be combative with officers."
Moreno eventually sheathed the knife and set it at his feet. Officers then moved to apprehend Moreno. Moreno responded by attempting to put one officer in a head lock while also knocking another officer's radio handmic off his chest. Officers were able to fully apprehend Moreno and he was transported to the Missoula County Detention Center.
Moreno is currently being charged with four counts of felony assault on a peace officer and one count of resisting arrest.
Back in October, Moreno was charged with assault with a weapon after he allegedly threatened a man with a knife. Six months before that, Moreno was charged with robbery for assaulting a Missoula Fresh Market employee while committing a theft.
25 True Crime Locations: What Do They Look Like Today?
Below, find out where 25 of the most infamous crimes in history took place — and what the locations are used for today. (If they've been left standing.)
LOOK: Here are the best lake towns to live in
Many of the included towns jump out at the casual observer as popular summer-rental spots--the Ozarks' Branson, Missouri, or Arizona's Lake Havasu--it might surprise you to dive deeper into some quality-of-life offerings beyond the beach and vacation homes. You'll likely pick up some knowledge from a wide range of Americana: one of the last remaining 1950s-style drive-ins in the Midwest; a Florida town that started as a Civil War veteran retirement area; an island boasting some of the country's top public schools and wealth-earners right in the middle of a lake between Seattle and Bellevue; and even a California town containing much more than Johnny Cash's prison blues.
More From Newstalk KGVO 1290 AM & 98.3 FM