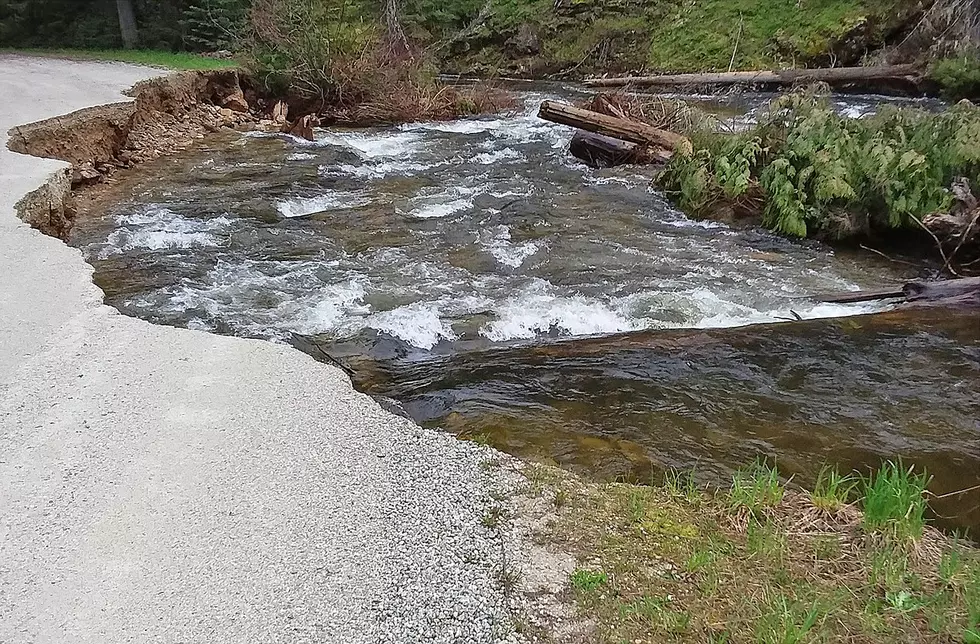 High Water Can Be Dangerous in Forests
Idaho's Orogrande Creek washes out road. (usfs-provided photo)
Make no mistake - we're in "high water" season in Montana and Idaho. In fact, Idaho's Nez Perce-Clearwater National Forests have two washouts from the fast-moving, swollen creeks.
A portion of the Pierce Superior Road (FS Road 250) is washed out along the Orogrande Creek (photo above). The washout is at milepost 21 about eight miles upstream from the creek's confluence with the North Fork of the Clearwater River. North Fork District Ranger Andrew Skowlund blamed log jams for the water buildup, "We lost approximately 18 feet of road width and approximately four feet of road shoulder."
The Nez Perce-Clearwater Forest also noted a washout on the Slate Creek Road #345 that is causing a closure to "full-sized vehicles" on the Salmon River Ranger District.
What About the Bitterroot Valley?
Back in Montana, in the Bitterroot Valley, the USGS Bitterroot River gauge at Bell Crossing near Victor showed a predicted high reading of 10.5 feet this weekend (flood stage is at 11 feet). So, be careful along the riverbanks, which can be very soft and dangerous with a full, fast-moving river.
On the Bitterroot National Forest, Tod McKay reported flooding at the Slate Creek campground up the West Fork, which has closed the back loop of the site. The front loop is open, however. And, up the East Fork, the Spring Gulch Campground might be closed if the river gets too high. It has flooded in previous years.
There's the opposite water problem at Lake Como. The floating boat dock won't be installed yet, because of a low lake level. It will be installed soon. Always check with the local Ranger Stations or the Bitterroot National Forest Facebook page for the latest information. For instance, Nez Perce Pass has partially re-opened, according to a recent report.
15 Pictures of Spectacular Montana Ranch Listed For Sale
The Lucas Ranch is a fourth-generation cattle ranch in Montana that was just listed for sale for the first time in 133 years.
The Best Movie Taglines in History
More From Newstalk KGVO 1290 AM & 98.3 FM