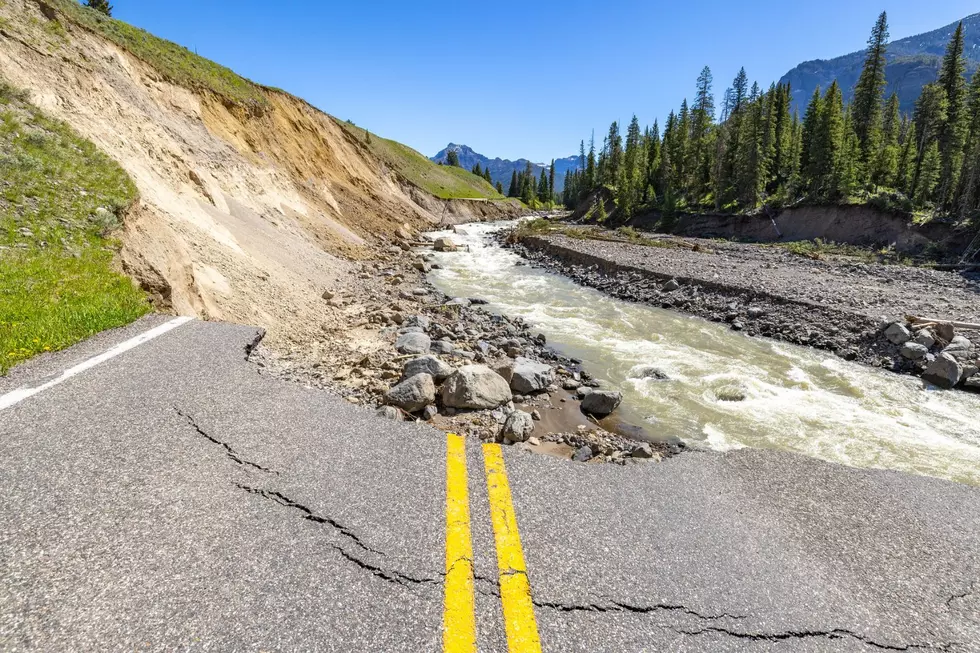 Houses and Cattle Floating Down the River Sparks Flood Coverage
nps.gov via Flickr
Missoula, MT (KGVO-AM News) - Sam Loveridge, Communications Director for Montana Commissioner of Securities and Insurance Troy Downing, appeared on the KGVO Talk Back show this week specifically to discuss the upcoming spring flooding season.
Loveridge referenced the first day of spring, which is the perfect time to address the issue of flooding. He reminded KGVO listeners about the devastating flooding that occurred last summer in and around Yellowstone National Park.
Last Summer's Yellowstone Disaster Points out Need for Flood Insurance
"Last year, we saw horrible flooding across the state, particularly in eastern Montana and Red Lodge and Fromberg," said Loveridge. "I guess yesterday was the first day of spring even though it doesn't feel like it, so we just want to make sure Montanans are aware that most likely their homeowners insurance policy does not cover flooding. That's an issue we saw last year in Red Lodge. In fact, Carbon County only had 80 (flood insurance) policies in place."
Loveridge said some of the flooding in that area last year occurred in areas that were not at high risk.
"You know, 25 percent of flood damage actually occurs in low to moderate risk areas," he said. "One of the things we saw last year, that was terrifying to watch was that house fall into the Yellowstone River and chances are that house wasn't in a high risk flood plain. What happened was the high rivers undercut the soil beneath the house and ultimately the shore ended up at the front door of this home. So, I'm sure that homeowner and many other homeowners didn't feel like they were risk, but in this case, their entire house floated down the river."
Loveridge also shared his experience in dealing with flooding last year at a ranch near Fromberg.
Cattle Floating down the River was a Heartbreaking Reminder
"We were standing on the bank of the river in Fromberg last year with a rancher, and he had had about two feet of water in his basement," he said. "The worst part of it was, during the worst of the flooding we actually saw his cattle float down the river, and of course he never saw them again. It's stories like that, that that are so common across the state that Montana has had to deal with, and unfortunately your homeowner's insurance policy just doesn't cover almost anything when it comes to flooding. Because of that, you must have a separate policy."
Loveridge said no matter where Montanans live, homeowners should take some time to take a video of all their personal property in case of a flood or fire.
Take Time to Video Your Possessions for Insurance Coverage
"Video the serial numbers on firearms in case those are lost," he said. "Do anything you can do to prove to that insurance company that you own those things. The last thing you'd want is to get a payout from your insurance company that's lower than what it should be. So, pull out your phone, turn on the video camera and walk around your house. Open up cabinets, everything you can think of. Make sure you get serial numbers off appliances and TVs, you just have to be able to prove your insurance company what you own. So that you know if you have to file a claim, you can be properly paid out for that loss."
Click here for information about National Flood Insurance.
Click here for contact information for the Office of the State Auditor and Insurance Commissioner.
25 Mind-Blowing Photos of Devastating Flooding in Montana
20 Mind-Blowing Photos of Devastating Flooding in Montana
Yellowstone National Park Rebuilds After Historic Flooding
After catastrophic flooding damaged portions of Yellowstone National Park in June of 2022, major reconstruction was necessary to make the park passable again. The following are photos of the improvement projects at Old Gardiner Road and the Northeast Entrance Road. All photos are courtesy of the National Park Service, photographer Jacob W. Frank.
More From Newstalk KGVO 1290 AM & 98.3 FM