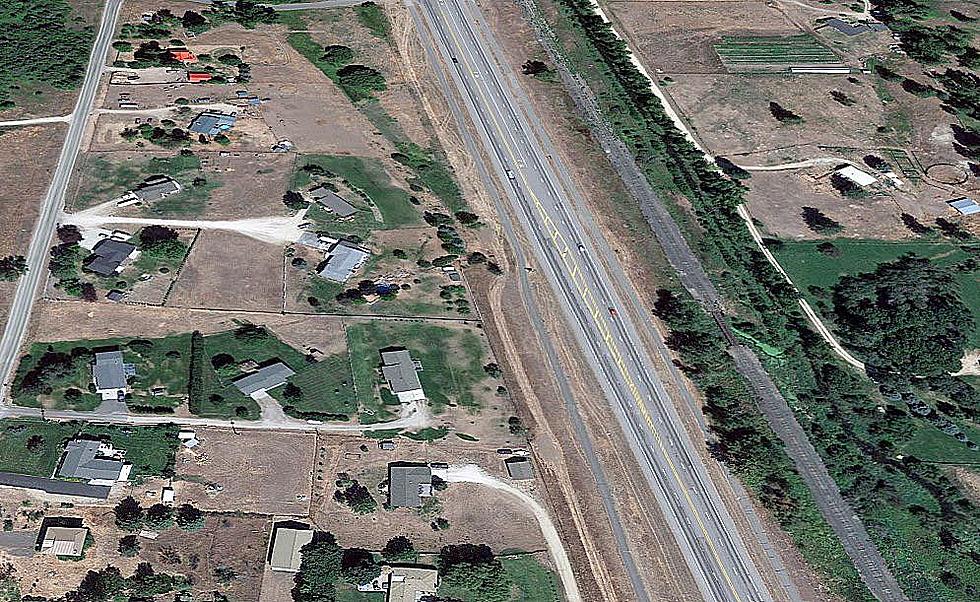 Highway 93 corridor study closes in on improvements, wildlife solutions
Google Earth
Martin Kidston
(Missoula Current) A study of the Highway 93 corridor south of Missoula is beginning to point to proposed improvements intended to address safety, speed and wildlife collisions, among other things.
Now two years in the making, the study looked at crash data collected by the Montana Department of Transportation over the past 10 years, and has included feedback from the public. While a number of recommendations are beginning to take shape, those behind the project said further refinement is needed.
"We're still very much in the brain-storming phase of this study," said Sarah Nikolai, a project engineer with Robert Peccia and Associates. "Our next step will be to start to refine these ideas and to identify specific improvement concepts for recommendations within the corridor."
Data collected by MDT found that 65% of traffic within the Highway 93 corridor is traveling north in the morning and south in the evening, indicating a commute to Missoula. Around 4% of traffic involves heavy trucks, and Missoula is the destination for around 32% of all truck traffic and 72% of car traffic.
Over the past 10 years, according to state data, the corridor has seen 1,118 crashes. Of those, 30% included wild animals, 20% rear-end crashes, 18% with fixed objects and 78% considered non-junction crashes.
Additional crash data found that 41% occurred during commuting hours and 54% during winter months. Another 32% occurred during adverse road conditions and 23% caused injury, with 4% being sever or fatal.
Nikolai said 7% of all crashes involved impairment, but in sever crashes, impairment accounted for 35% of the accidents.
"We're seeing more crashes occur around the Lolo area, in the s-curves, and as we head up north closer to Missoula," said Nikolai. "Folks are realizing there's already high traffic volumes and high speeds on this roadway, and as growth and development continues, those conditions might be exacerbated."
Potential solutions recommended thus far are specific to certain areas of the corridor, and certain concerns. But broadly, they include intersection improvements, roadway signage, lighting, high-friction surfacing, pavement marking, urban transition zones and wildlife accommodations, among others.
Addressing wildlife needs as the Bitterroot Valley develops has emerged as one of the top issues. Highway 93 divides the valley and for wildlife, crossing it is often fatal.
"There could be some short-term ideas, like wildlife detection, activated signage and improving visibility related to vegetation management," said Nikolai. "These are lower cost but longer term, there's a willingness to discuss some larger ideas like a grade-separated crossing and fencing to funnel wildlife to that crossing location."
While the safety study advances, Missoula County aso has requested a separate speed study within the corridor, extending from Missoula south to Hamilton.
Becca MacLean with Big Sky Public Relations said the speed study broke the corridor into five segments and considered roadway conditions, vehicle types, and citation and crash history.
Currently, she said posted speeds are at about the 50th percentile, meaning half the drivers are traveling above the posted speed and the other half below it. The 85th percentile is typically used to set speed limits when roadway conditions are favorable, she said, adding that drivers will typically drive the speed they're most comfortable with.
"Drivers have real difficulty slowing down when transitioning into developed areas. That's driving into Lolo or driving into Florence," she said. "That differential of speed is really challenging for folks and causing issues."
So far, MacLean said the speed study hasn't recommended any holistic changes to the speed of Highway 93, at least through zones marked 55 miles per hour.
However, it does suggest that speed transition zones be extended by half a mile. A new 55 mph speed transition zone should also be introduced between the existing 65 mph and 45 mph zone south of Missoula, she said.
LOOK: The longest highways in America
Gallery Credit: Hannah Lang
The Missoula Current
is a Montana owned and operated news organization founded in 2015 to help fill the void in local journalism, and we've been free to read ever since. If you would like to read the original article,
click here.
More From Newstalk KGVO 1290 AM & 98.3 FM