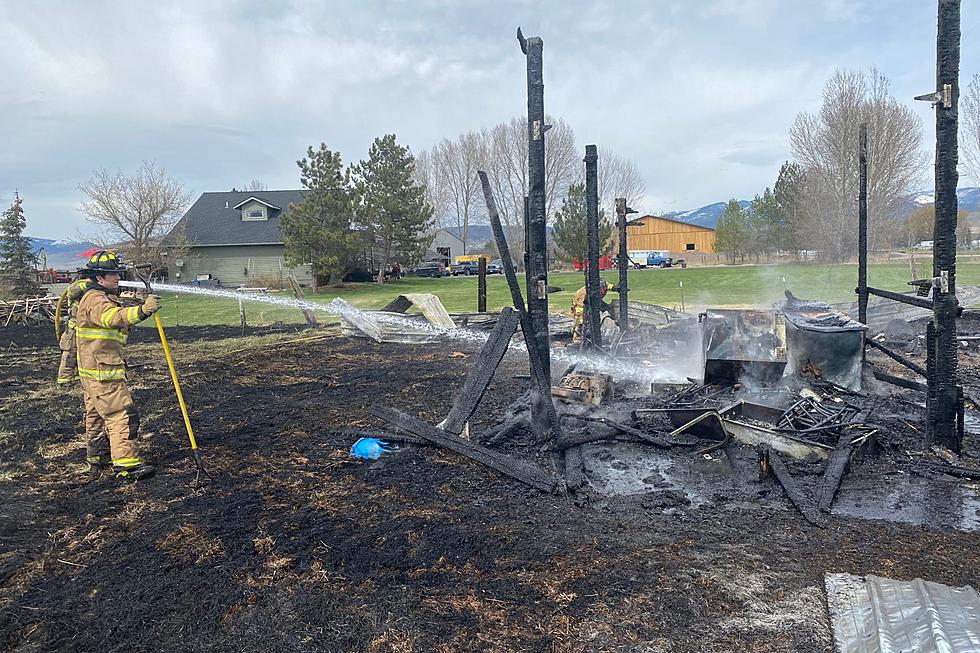 Missoula Barn Gutted by a Fire From a Controlled Burn
Credit: Missoula Rural Fire
Missoula, MT (KGVO-AM News) - Missoula Rural Fire crews were dispatched to a residence on Last Best Place Road on Sunday afternoon after a permitted burn spread out of control and totally destroyed a large storage barn.
KGVO News spoke to Battalion Chief Ron Lubke about the blaze that was called into 9-1-1 just after 2:20 p.m.
Fire Crews Spotted the Large Smoke Plume Miles Away
"At about 2:25 in the afternoon Sunday, we received a report of a structure fire in the area there," began Chief Lubke. "We responded with a full structure fire assignment. Units en route could see a large column of smoke from some distance out from the scene so we knew we had a working fire."
Lubke described what Missoula Rural Fire Crews found when they arrived on scene.
The Large Barn was Completely Destroyed by the Fire
"The first engine to arrive found an approximately 30-foot by 40-foot barn that was fully involved and what they believed to be about a one-acre grass fire as well," he said. "We later determined that was the remnants of a controlled broadcast burn of a small pasture that had actually been part of what caused the fire with the barn. The property owner was tending to his broadcast burn and was in an area where he thought it might go towards his neighbor's property and trying to do the right thing. He took care of that area and when he turned around the fire had reached his barn and had already ignited it and the fire took off very quickly from there."
Lubke described the response by Missoula Rural Fire.
"We brought one engine, one ladder truck, and four water tenders because there are no fire hydrants in that area and a command unit as well as an ambulance from Missoula emergency services and several Missoula County Sheriff's deputies," he said. "About 13 firefighters were on the scene. The primary objective was to keep it from spreading. They did actively fight the fire but they did not go into the barn. It was fully involved when they arrived and the roof started to collapse shortly after their arrival. It took about 20 minutes to knock down the bulk of the fire and they had the fire extinguished within about an hour."
The Homeowner was Trying to do the Right Thing but his Barn was Destroyed
Lubke said fire crews were not able to save the barn, and it was a total loss.
"The barn was a total loss," he said. "They were only using it for storage, so the estimated damage was about $10,000 for the barn and $5,000 for the items stored inside; so about $15,000 total. Probably the biggest thing that I would tell folks is if you think your fire is getting away from you or it's getting out of hand, call 9-1-1 right away. A lot of people are scared to call 9-1-1 thinking that they'll be billed or fined if their fires are out of control. We would much rather come early and help you get it back under control than have something serious happen like this."
All controlled burns require a valid activated burn permit which can be obtained online through the Missoula County Fire Protection Association website.
28 Missoula Businesses That Opened, Changed Ownership, or Changed Location
Yes, there has been a lot of change with Missoula businesses since 2020. Here is an idea of the business growth that has taken place.
24 Closed Missoula Businesses We Wish We Could Bring Back
We asked Missoulians which of their favorite businesses that have closed down would they like to see make a triumphant return. Here's what they came up with.
More From Newstalk KGVO 1290 AM & 98.3 FM