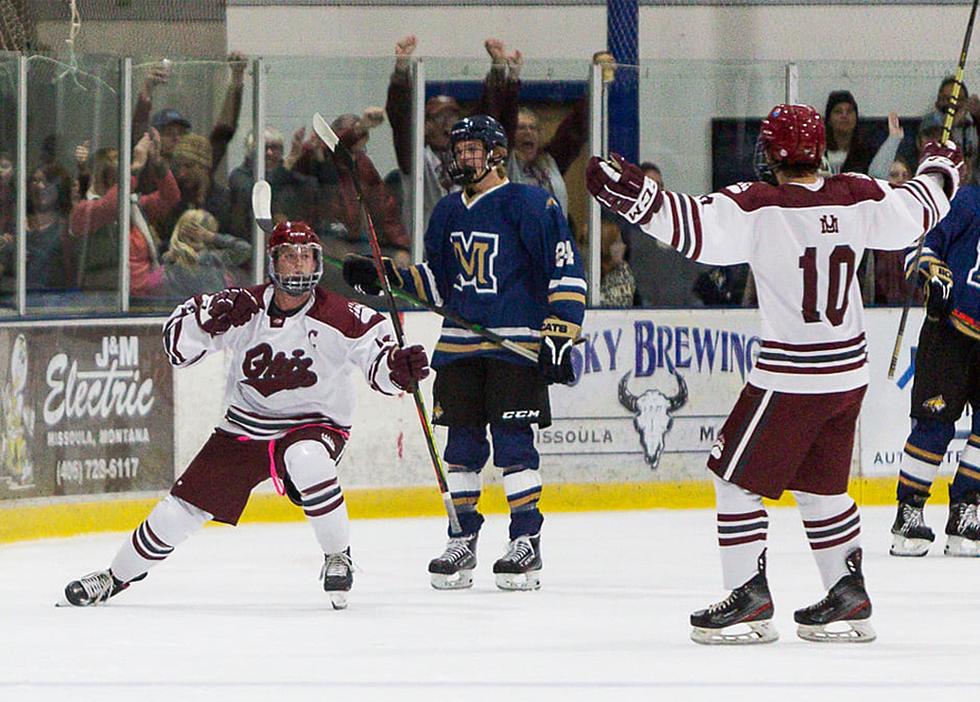 Fans are Already Crazy for University of Montana Grizzly Hockey
Image courtesy of UM News Service
Sellouts. Official team jerseys flying off the shelves. A team that is already 3-0. Is Missoula's hockey culture incredible or what?
With the departure of the Missoula Jr. Bruins, Missoula hockey fans have been searching for a team to rally around. It looks like they may have found it in a new addition to Montana Grizzly Athletics: the newly-minted Griz club team.
UM News Service reports that the team is capitalizing on Missoula's love of hockey and drawing hundreds of fans in their first season. The 24-member team is composed of UM students from Montana and beyond.
The team's general manager and assistant coach is UM alumnus Tucker Sargent, who also is the coach of the Griz club lacrosse team. Tucker has been dying to restart UM's hockey team for many years, after it fizzled and fell by the wayside 10 years ago. The turnout and support has been amazing so far.
The staff sees it as another great way to recruit students who have an opportunity to play hockey here, when UM might not have been on their radar. And just how good are these Griz on Ice so far in their infancy?
The team has a 3-0 record so far this season, having beat Gonzaga twice (6-0 and 7-2) and Montana State University (4-2). The team has so much support, they're already selling custom fan jerseys. Tickets sold out for their first home game with more than 1,000 fans in attendance. For tonight's (Friday) game, the team has added an additional 300 seats to their home arena, the Glacier Ice Rink, and a student section for this Friday's game against Montana State by installing more bleachers to keep up with the demand. Gee, we bet that won't be TOO rowdy.
University of Montana President Seth Bodnar will perform the ceremonial puck drop at 7:30 p.m. Tickets will be available at the rink on Friday night, or ahead of time at Hockeywolf and Lacrossewolf Headquarters located at 2621 Brooks St. in Missoula. Tickets cost $5 for students, $5 for kids under 13 and $10 for adults.
The team is providing a bus for a free shuttle from the Adams Center to Glacier Ice Rink with pickup times at 6:45 p.m. and 7:15 p.m. Parking is available at the rink and additional parking is across the street in the Les Schwab Tires parking lot, courtesy of Les Schwab Tires.
It sounds like Griz Nation may be onto something here. Find out more about your new team here.
30 famous people you might not know were college athletes
Stacker
dug deep to find 30 celebrities who were previously college athletes. There are musicians, politicians, actors, writers, and reality TV stars. For some, an athletic career was a real, promising possibility that ultimately faded away due to injury or an alternate calling. Others scrapped their way onto a team and simply played for fun and the love of the sport. Read on to find out if your favorite actor, singer, or politician once sported a university jersey.
More From Newstalk KGVO 1290 AM & 98.3 FM