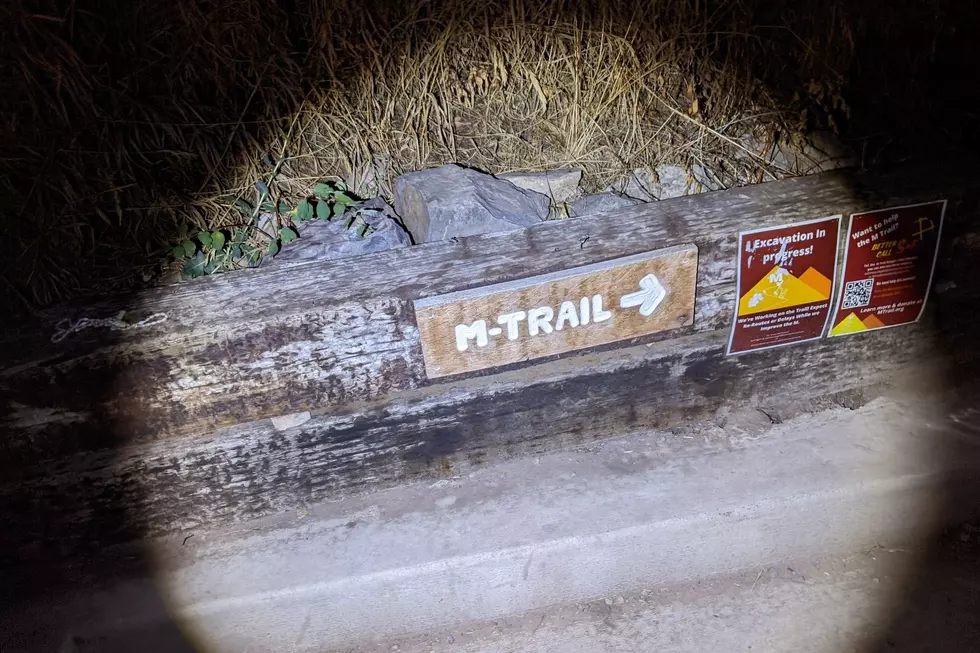 Can You Hike The M Trail In Missoula At Night?
Credit: Benny Edwin
Missoula's best-known trail up Mt Sentinel is one of the most iconic in the State of Montana. The summit of "The M" offers a great view of the University of Montana, the City Of Missoula, and both mountain ranges (the Sapphire and Bitterroot ranges) I even liked my first trip up The M so much I documented it for posterity:
I can't recommend The M enough for our Western Montana visitors. Mt. Sentinel is our best-known and most prominent geographic feature, and the views (as you can see from the video) are breathtaking.
But what if you wanted to hike it at night? Can you?
The Answer
There's lots of stuff you technically "can" do, depending on physical and mental capabilities. But it may be different from what is legal and what is not. In short, the answer is yes. But before you charge off into the night, there's some things you need to know.
Why You Can Hike The M At Night
You'd think that because Mt. Sentinel sits entirely within the limits of the City Of Missoula, they'd have jurisdiction over when to close the trail. But Mt. Sentinel and the M Trail are actually owned by the University of Montana, and have been for over 100 years (source)
The M Trail has three access points shown here in red. The Phyllis Washington Park trailhead is the most popular, however the other two are connected to residential zones in the city.
This means that anyone, regardless of residency or student status, can hike up the M at any time (except when the trail is closed for events, more on that below)
When Is The M Closed?
The trail is the purview of University of Montana, so they have the final and only say on when the trail is closed. A SOURCE from the University let us know when The M will be closed:
anytime Mt. Sentinel becomes a crime scene
during highly charged political events in Missoula (security reasons)
during concerts at Washington Grizzly Stadium (copyright infringement concerns)
if there's a wildfire
In addition to these circumstances, M Trail may also be closed during inclement weather. But as long as you don't see signs posted at the trailheads specifically denoting trail closure, the M is open for exploring.
Author's note: if you're thinking about hopping over the fences when there's a big concert at the stadium and getting smartphone video & audio from Mt. Sentinel, you're not the first to have that not-so-bright idea. I recommend buying a ticket to the show like everybody else to avoid legal trouble.
Safety Tips For Hiking At Night
So now we know that unless there's a special event in Missoula, the M Trail is open 24/7. But you still need to keep yourself safe.
Use A Flashlight
This one's kind of a gimme, but you need to see where you're going. Even from the first switchback, it's a long way down. PRO TIP: don't blink your flashlight repeatedly unless you're in distress. Missoula Police officers and/or fire rescue crews will show up thinking someone needs help.
Be Mindful Of Other People (and critters)
Even at night, there's probably going to be other people on the M Trail with you. Keep an eye out for other hikers as well as wildlife.
Mt. Sentinel straddles the Pattee Canyon Recreation Area, which is maintained by the Missoula office of the U.S. Forest Service (no businesses or houses allowed in the area) This means you're going to be sharing the mountain with wildlife. Deer, birds, and even raccoons sniffing out garbage left behind by careless hikers will be around.
There may also be transients/homeless people on the mountain or near the trail. It's a good idea to bring a friend if you're going to be hiking at night.
Trail Etiquette: Dos and Don'ts
Bozeman has countless, wonderful hiking and walking trails within easy reach of town. But being a Montanan means caring for your surroundings.
More From Newstalk KGVO 1290 AM & 98.3 FM