Truck Sought In Criminal Mischief Case [AUDIO]
The Missoula County Sheriff's Office is seeking information into the identity of the person(s) that caused damage to a truck and the Mountain View School building located at 1010 Clements Road. I spoke with Public Information Officer Jason Johnson about the case on Tuesday afternoon. That interview is attached.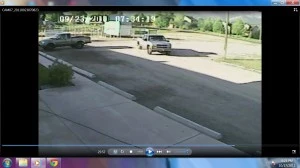 Audio clip: Adobe Flash Player (version 9 or above) is required to play this audio clip. Download the latest version here. You also need to have JavaScript enabled in your browser.
 On September 23, 2011 at 07:34 hours the schools surveillance system captured a light gray Chevy Truck entering the parking lot.  The truck then increased speed and spray gravel at the driver's side of a parked truck and at the front of the school building.  Damage to the truck and building windows is estimated at $1000.00. If you have any information, please call Crimestoppers at 721-44-44.